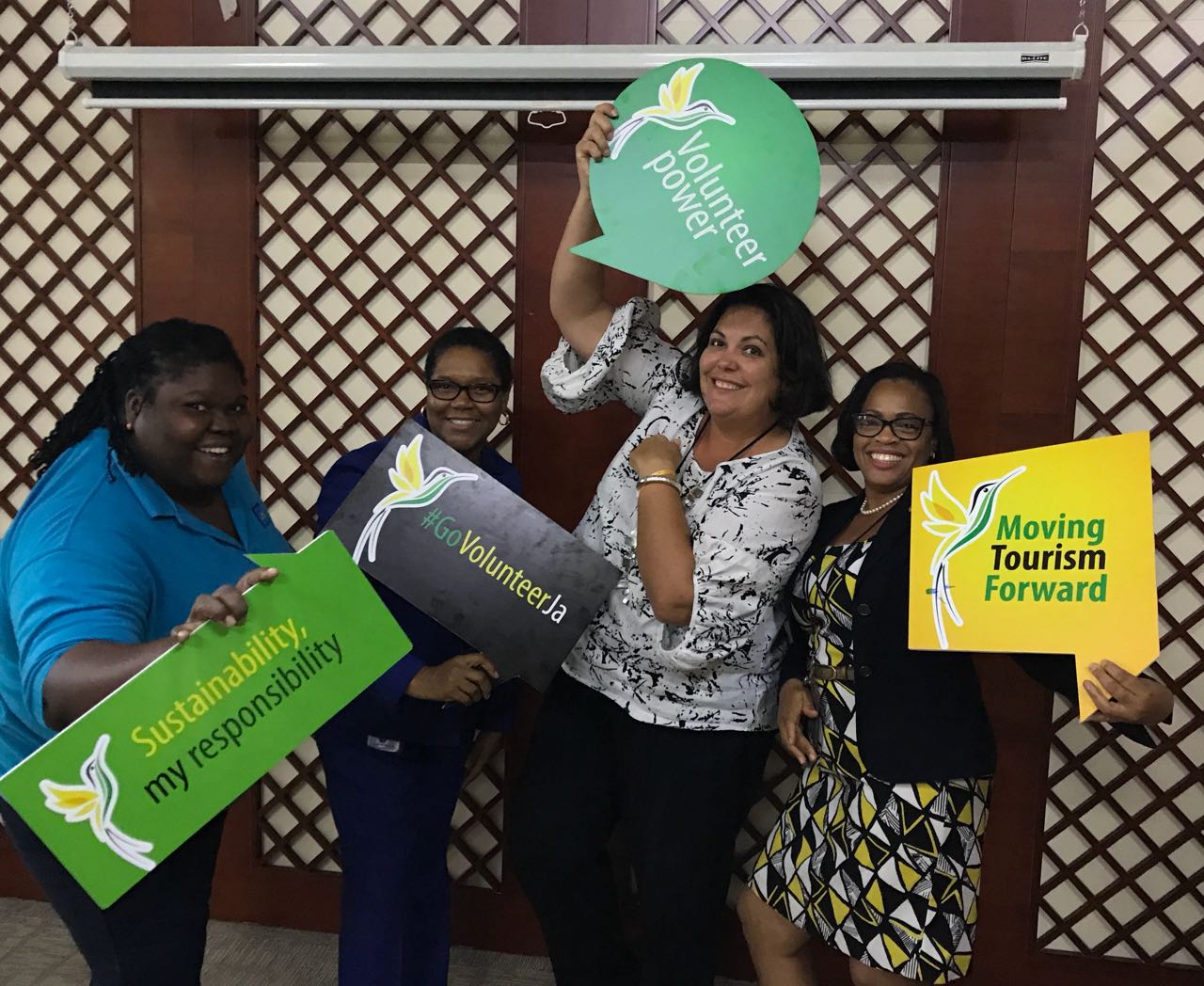 Members of the Volunteer Committee for the UNWTO Conference  posed with props. From left are: Chevanese Peters of the JN Foundation; Marline Stephenson-Dalley, chair of the Volunteers Committee; Saffrey Brown, general manager of the JN Foundation and Megan Mollison of the Tourism Product Development Company.
Some 150 volunteers, comprising of students, community groups, government and private sector organisations,have been trained to support the United Nations World Tourism Organisation's (UNWTO) Global Conference, which will take place from November 27 to 29 at the Montego Bay Convention Centre in St. James.
Joy Roberts, co-chair of the Volunteers Committee for the UNWTO Conference,said the volunteers were integral to the success of the Conference, which is the first for the Caribbean and Jamaica.
"Undoubtedly, the volunteers will be a key part of the experience of delegates attending the Conference. They will be the first to meet the delegates when they arrive at the airport and they are assigned to every area of the Conference," she pointed out.
The volunteers were trained in customer service, protocol, team building, registration and logistics. The volunteers are pulled from tertiary institutions such as the University of the West Indies; the University of Technology, the Caribbean Maritime University and the Spot Valley High School in St. James.Others are from community groups, the public and private sectors and the combined Cadet Group.
Saffrey Brown, general manager of the JN Foundation, which is also involved in the training of the volunteers,underscored the value of the volunteers to the upcoming Conference.
"This is a very important Conference with a large contingency of delegates from more than 100 countries who are expected to be in attendance. Our volunteers are trained to provide information and guidance, they will be the first point of contact and it is critical that they are well trained as they will contribute to the success of this Conference," she pointed out.
D' Andre Collinder, who has volunteered to work at the Conference, said that she was elated to participate as a volunteer.
"I have just completed my Masters Degree in Hospitality and Tourism Management and I felt that volunteering for the upcoming UNWTO Conference would have been good experience for me since it is directly related to the Ministry of Tourism and something that is looking at sustainable tourism on a global scale," she informed.
Collinder said she is looking forward to the exposure in areas of logistics and what involves putting on a Conference of this magnitude.
The Conference is being held under the theme "Jobs & Inclusive Growth: Partnership for Sustainable Tourism" and is being staged within the framework of the declaration of 2017 as the International Year of Sustainable Tourism for Development.