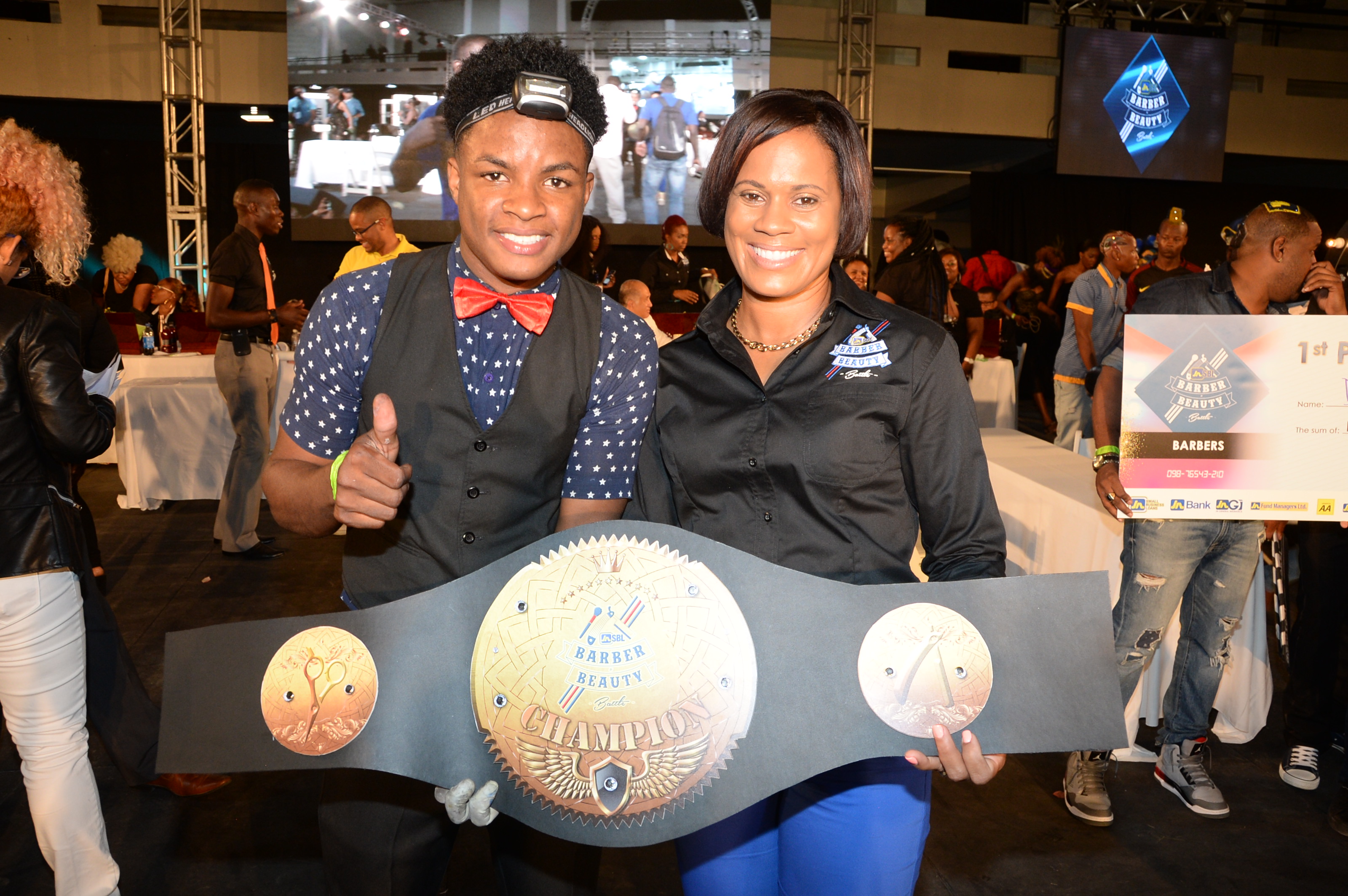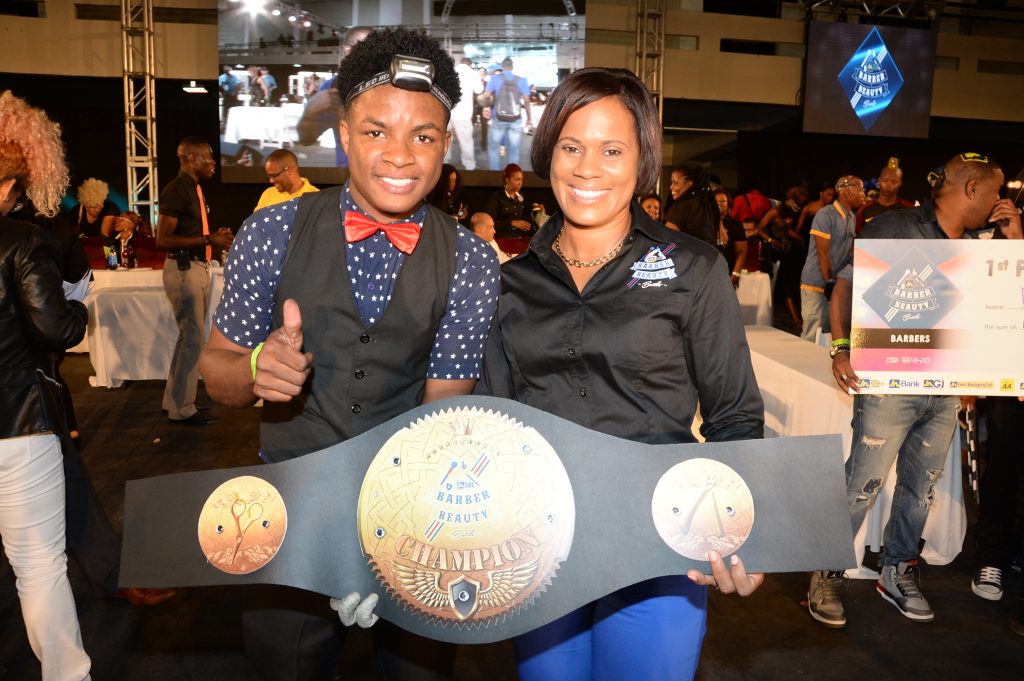 Winning barber, 20-year-old Damayo Riley receives his winning belt from Mrs. Gillian Hyde, general manager, JNSBL.   
Although he is only 20 years old, Damayo Riley proved that, "age was just a number," when he won the Barber category of the 2017 JN Small Business Loans (JNSBL) Barber and Beauty Battle at the National Arena on Sunday, May 7.
Riley, who is based in Mandeville, Manchester, finished ahead of last year's winner, Marlon Phillips; and Sly Scott, who won the first staging of the competition in 2015. For his victory, Riley received $500,000 while Phillips and Scott were awarded $300,000 and $100,000, respectively.
"I've been a barber from I was ten years old," stated Riley. "I grew up cutting my own hair, first; and I kept on practising until I mastered it, and started cutting the hair of the younger boys around me. It has been a long hard journey and I am extremely happy to win."
The young Barber, who works at Spa Utopia in Mandeville, loves his craft so much that he has never thought about doing anything else.
"As soon as I graduated from Bellefield High School, I took certificate courses in the field. When I completed the course, at HEART/NTA and the Trendsetter Institute, I was asked to teach at Trendsetter," he related. "And, I upgraded my skills by doing a course in Beauty Therapy. I taught at Trendsetter for two years, as they recognised that I was passionate about the profession."
Although he enjoyed teaching, Mr Riley preferred cutting hair; therefore, he moved on to work at Spa Utopia where he has been, since this year.
"This competition has motivated me to go on to bigger and better things; but right now, I am simply overwhelmed and happy!" he declared.
Riley, was not the only winner on Sunday night.  Nail technician Maxine Whitely, a mother of two, won her category ahead of Chevaughn Gordon-Hutchinson, who placed second; and Samantha Smith, who came third. Last year, Whitely was second behind Marsha-Gay Edwards.
Miss Whitley earned $300,000, while Mrs. Gordon-Hutchinson and Ms Smith received $100,000 and $70,000, respectively.
"I said I wasn't going to enter again, initially," the winner declared. But then, I thought about it long and hard; and decided I would take the chance. I came prepared and it worked out for me."
Ariel Hitchener, a Kingston-based make-up artist, won her category ahead of Trudy-Ann Frankson and Keniesha Bryan. Hitchener received $300,000, while Frankson and Bryan received $100,000 and $70,000, respectively.
"I was confident going through the rounds; and knew from the JN Fantasy Round that I was in a good position, based on what the judges were looking for," Hitchener explained.
Travene Walker, a hairdresser for the past five years, won the hairdressers category ahead of Keiva-Kay Barrett and Carlene Clayton. Walker received $500,000 while Barrett received $300,000, and third place winner, Carlene Clayton won $100,000.
"In everything I put God first and I prayed this morning when I got here," said Walker. "After the JN Fantasy Challenge, I realised that I had a chance of winning. Then, in the Spring Bride Challenge I knew that I was in a position to win," she stated.
Mrs Gillian Hyde, General Manager for JNSBL said the third staging of the JNSBL Barber and Beauty Battle achieved its objective.
"We wanted to demonstrate that talent abounds in the local beauty sector; and the quality of the work displayed by our participants was exceptional," she said.  "It indicates that if aspiring persons are given the financial support and motivation they can achieve their potential. And, based on the performance of our participants, we are confident that they will move on to improve their skills and grow their operations."
First mounted in 2015, The JNSBL Barber and Beauty Battle emerged from a conversation between chief executive Officer of The Jamaica National Group, Mr Earl Jarrett, and his barber.
The barber suggested that mounting a competition for barbers and hairdressers would give them the opportunity to showcase their craft. Now in its third year, the competition has grown, with avid interest and participation from barbers and beauticians in the local beauty sector.