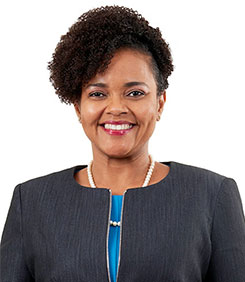 Claudine Allen, Member Ombudsman shares important information for our members in the quarterly JN Living Well magazine.
1. Life insurance is a safety net put in place for life eventualities when they happen to you or your loved ones.  It means that your loved ones will be comfortably taken care of when you are no longer around to provide for them.
2. Your premiums are like the rope that holds your safety net in place. Premiums are paid monthly, quarterly or annually, in return for your coverage. Your on-time payment strengthens your safety net.
3. Just like other important documents, always keep your insurance policy in a safe place.  If you can, keep a digital copy as a backup.
4. Things happen. If you're having difficulty paying for a period, keep in touch with your insurance agent and make arrangements to pay before the grace period expires.  Non-payment can affect your policy benefits and weakens your safety net.
5. When you need to make a claim on your life insurance, contact your insurance agent who will guide you through the process. Don't forget to take your policy along with you.
Read about JN Life Insurance company's offerings at www.jnlifeinsurance.com.
Your JN Member Ombudsman is the customer champion for The Jamaica National Group. She advocates for issues that preserve mutuality and unleash the potential of JN members. The Ombudsman also promotes the adoption of business practices that ensure delightful service and adds value to membership.  The Ombudsman facilitates dialogue with JN members about matters which impact their relationship with the entities within The Jamaica National Group and investigates complaints in order to achieve impartial resolution.  Visit www.jngroup.com/member-ombudsman
Was this article helpful?