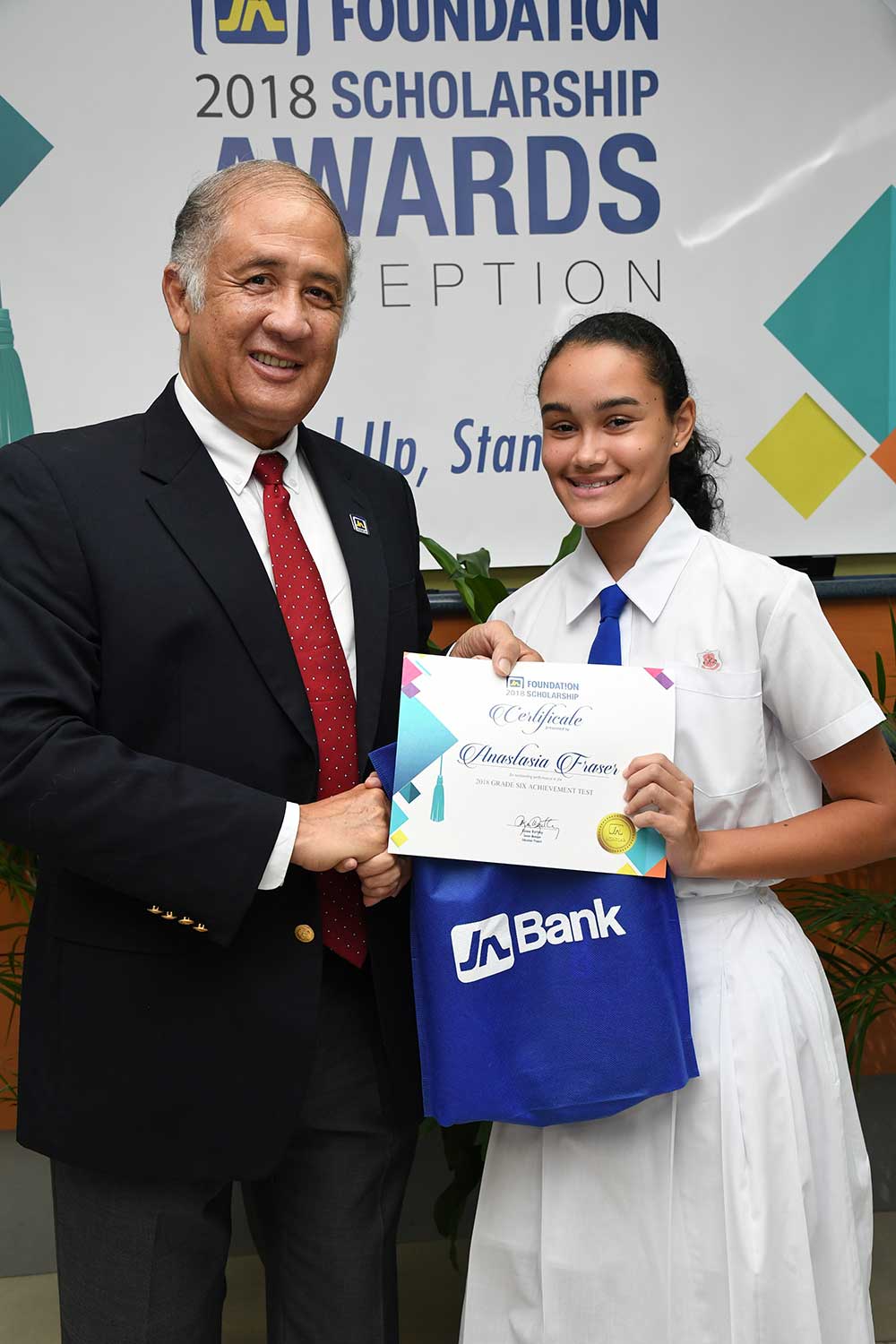 At 12-years-old, Anastasia Fraser already knows the importance of living a balanced life.
A recent graduate of Immaculate Preparatory School in St Andrew, Anastasia is the 2018 recipient of the JN Foundation's Grade Six Achievement Test (GSAT) Scholarship for the parish of St Andrew.
She was among 37 top performers in this year's GSAT who were awarded five-year scholarships by the JN Foundation at an awards reception held at the organisation's Chief Office on September 9.
With perfect scores in Mathematics, Social Studies and Communication Task, a 99 in Language Arts and a 98 in Science, one would assume that she spends all her time studying. However, the top student confesses that while she studies consistently, she also takes time to participate in activities outside the classroom.
"At the end of the day, when it's time to start your career, it's important that you are well-balanced and have more to offer your employer and your community than only academics," she said.
Anastasia, who is now a student at Immaculate Conception High School, is not only a top student, but is also a talented dancer, who specialises in ballet and modern dance. She was also a member of her prep school's swim and Math Olympiad teams, through which she participated in several competitions. She also spent time helping her school's quiz team prepare for the Primary School Challenge Quiz.
Her mother, Christina Bell, pointed out that being a well-balanced student is a quality she tries to encourage and instil in her child.
Miss Bell noted that while Anastasia prepared for exams, the techniques they practiced as a family was to maintain a routine to ensure that she studied consistently, attended extra lessons and also maintained participation in extra-curricular activities.
"That was the approach her father and I encouraged, therefore, while she was preparing for the GSAT, we persuaded her to continue to participate in her extra-curricular activities. I didn't believe she should drop out of any of the clubs or stop doing the things which she enjoyed because of her exams," Miss Bell pointed out.
"She's a sociable and out-going child, definitely not what you would call the typical book-worm. Her personality influences her to interact with people, and those are traits we want to encourage. I want her to pursue her passions, as she excels academically," Miss Bell relates.
Anastasia, who has followed in her mother's footsteps by attending Immaculate Conception, said she's excited about starting her new school life at one of the top secondary schools in Jamaica.
"I'm excited, although I'm expecting the work to be much harder," she explained.
The 12-year-old is also hoping to maintain a healthy work-life balance, while attending high school, noting that there are several extra-curricular activities which she wants to pursue while at Immaculate, including her passion for swimming and dancing.
Anastasia, whose favourite subject is mathematics, says that in the future, she hopes to pursue a career in finance or medicine.