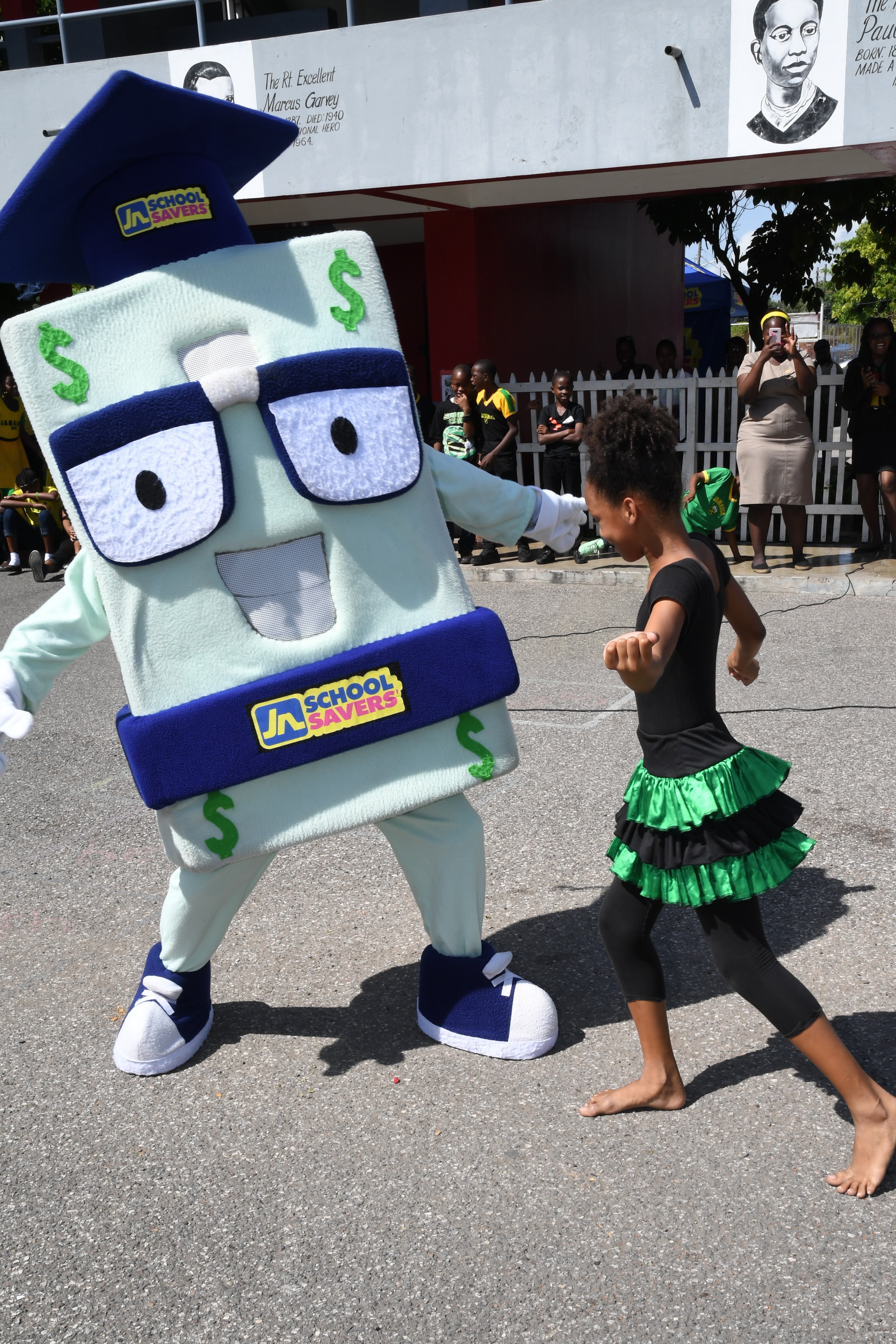 Laylor Castillo (right), student of the Independence City Primary School, participates in a dance off with the JN School Savers mascot, Ca$h Kid, during Jamaica Day celebrations.
It was a day of cultural extravagance and celebration at the Independence City Primary School in St Catherine, as the institution hosted Jamaica Day 2018 on Friday, February 23.
The Portmore school was alive with excitement, as ecstatic students and teachers showcased aspects of the country's rich and diverse cultural heritage through dance, music, drama and poetry.
Special emphasis was placed on protecting the country's natural environment as well as preserving rich traditions, which were underlined by the theme, "Celebrating Jamaica: Nurturing our Natural and Cultural Heritage."
The activities also highlighted the teachings of Jamaica's first National Hero, Marcus Garvey, traditional Jamaican menus, such as: ackee and saltfish, rundown, dukoonu and various puddings; as well as, traditional dance forms including kumina and dinki mini.
There was also a mini-savings expo from a booth mounted by the JN Bank. And, the JN School Savers official mascot, "Ca$h Kid," interacted with the students.
In her remarks, Ann Geddes-Nelson, principal of the Independence City Primary School encouraged Jamaicans, young and old, to embrace their uniqueness and achievements.
"Jamaica Day is an important celebration, not only for our schools and our children, but for everyone in the wider society. It is an opportunity for students and others to focus on what it means to be Jamaican and to promote those qualities," she said.
Mrs Geddes-Nelson further noted that Jamaicans must reclaim and revive their rich cultural heritage and traditions.
"We're losing ourselves. We're losing the values and attitudes that truly make us Jamaican. We need to look back at the days when we cared about each other, when the community played an integral role in the school, and when the entire community saw each child as its own," she stated.
Laurel Whyte, promotions and events officer at JN Bank, welcomed the occasion to encourage the parents to nurture the habit of saving in their children through the JN School Savers Programme.
She pointed out that saving was also a part of the country's cultural heritage, as Jamaicans are accustomed to putting aside, "a little money for a rainy day." And said that the Independence City Primary School was an active participant in the JN School Savers programme.
Ann-Marie Robinson, a parent who signed up her son for the School Savers programme, said she was helping him to save for his secondary and tertiary education.
"My eldest daughter recently graduated from high school with eleven subjects, and I can hardly find the funds to send her to college. I don't want the same thing to happen to my son; therefore, I'm going to put aside a little every month, so that when his time comes, he will be able to attend high school and university," Miss Robinson declared.
The celebration of Jamaica Day, which started in 2002, was observed in many other schools across the country.