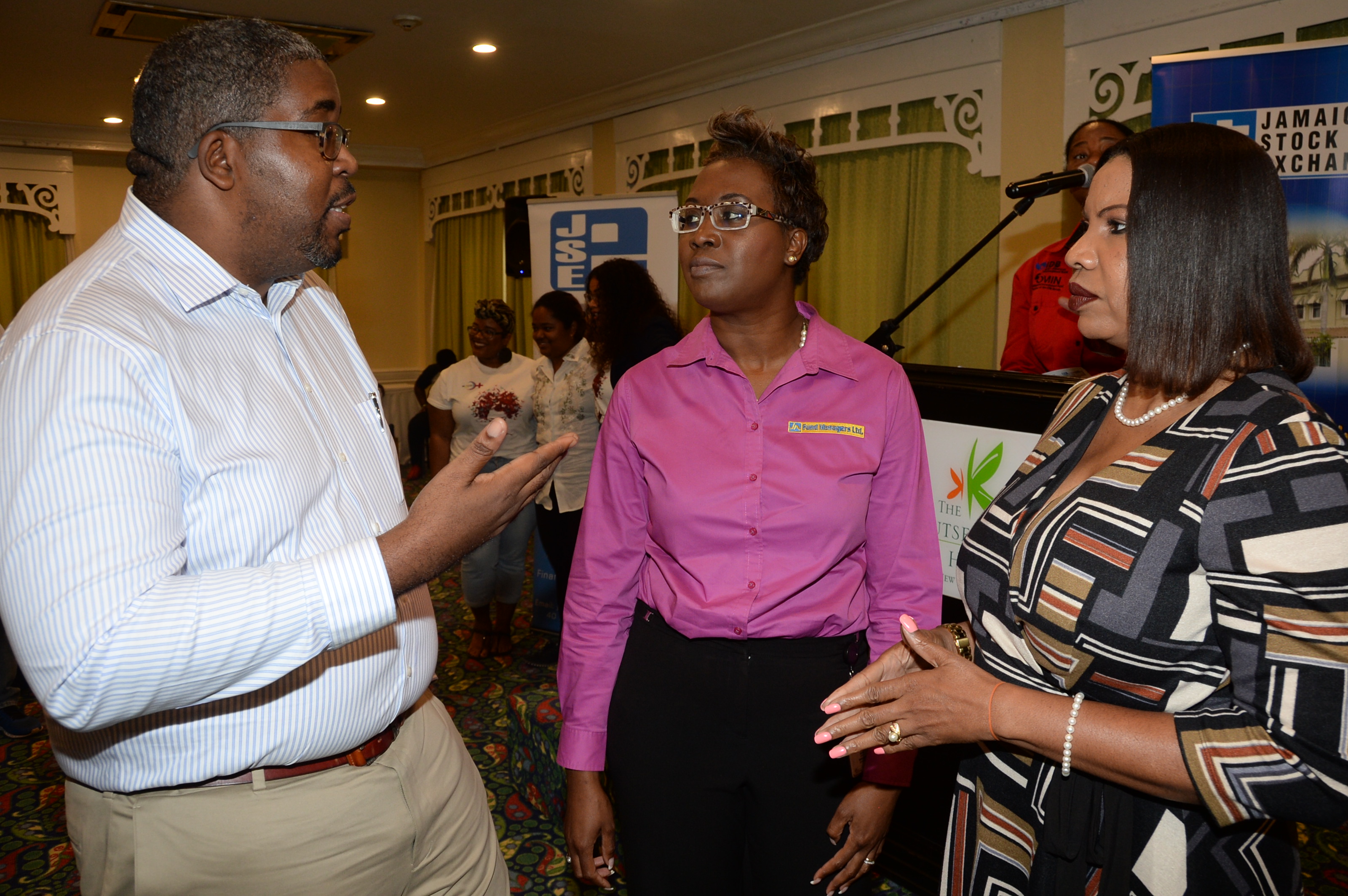 Andrae Tulloch (left), acting chief regulatory officer at the Jamaica Stock Exchange, discusses shareholder rights with Keisha-Ann Morgan, trading manager, JN Fund Managers, and Marcia Gallow, seminar attendee.
Sustained success in stock market investments requires investors to consider more than short term gains, said two of the four experts addressing participants at a seminar for new investors, held by the Jamaica Stock Exchange (JSE) and JN Fund Managers, on April 13.
Ramon Small-Ferguson, Chief Investment Strategist and Head of Research at JN Fund Managers Limited, told the stock market beginners to focus less on short term gains prevailing in the market, and consider long term investing strategies. He said a disciplined approach is needed to overcome the issues caused by speculative buying or panic selling.
"Even in the instance of initial public share offers (IPOs), the majority we have seen recently have been oversubscribed," Mr. Small-Ferguson told the eager audience. "Then after the IPO, you tend to see a lot of that money trying to get the stock that wasn't acquired. I tend to advise my clients not to chase the stock price up in speculation but rather base the decision to purchase on sound fundamentals."
The third in a series held at the Knutsford Court Hotel in St. Andrew since last year, the seminar was designed to prepare participants to become stock market investors by introducing them to the terms and concepts used in such investment.
"If you get advice and you think a stock is worth 'x', then keep that as your reference point when buying or selling," Mr Small-Ferguson told the audience of more than 100 new investors. "In investing, you will not always be right, but the key is to be right more often than you are wrong."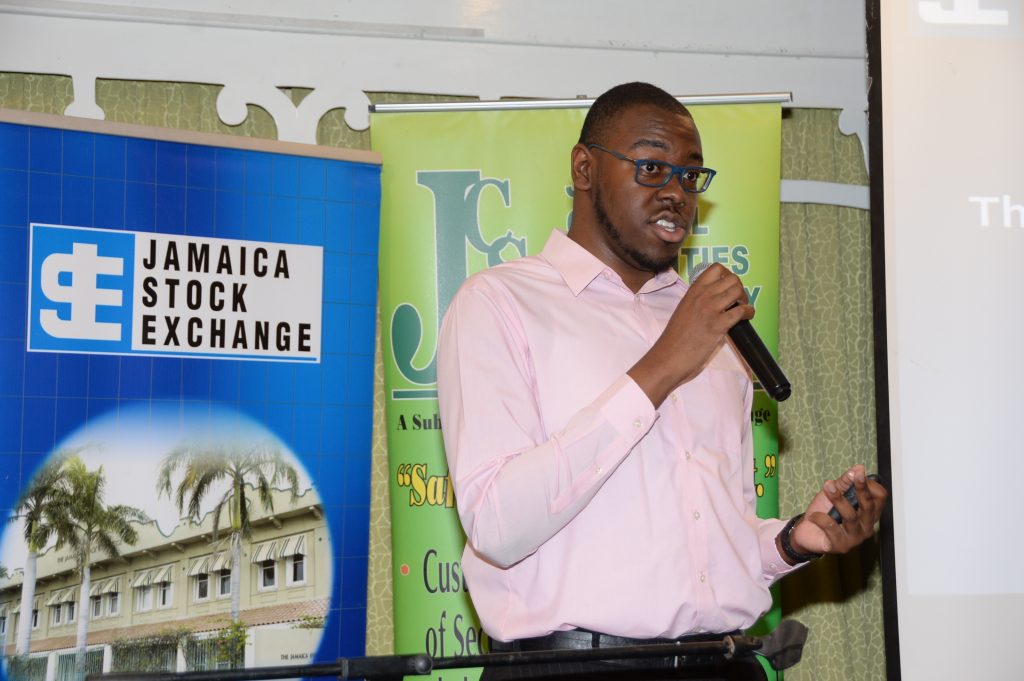 Andrae Tulloch, Acting Chief Regulatory Officer at the JSE told the novice investors that they need to educate themselves about developments in the market; and the obligations of listed companies, as well as, brokers to investors.
"Educating yourself is one of the major ways to protect your investment," the acting chief of the JSE's Regulatory Market Oversight Division (RMOD) said. To achieve this, "It is very important to examine company statements."
He explained that the RMOD aims to foster a fair, efficient and transparent market, by seeking to ensure that financial and other relevant information from listed companies are produced on a timely basis.
"We have about 70 companies listed on the exchange, and 80 percent of them have been producing their reports on a timely basis," he declared. The RMOD monitors information about company developments from multiple sources, to determine whether they are fully disclosing significant developments.
Another issue of vital importance, is share trading by company insiders, Mr Tulloch said.
"If you are a director or a senior manager of a company, there are times that you should be allowed to trade shares," the Acting Chief of the RMOD explained. "These trades give an indicator to the market how the insiders view the prospects of the company, which is an important signal to you."
He pointed out that, such trading is closely monitored, to ensure that shareholders inside the company are not advantaged by early access to information.
The audience also learned about the development of online trading, in a presentation by Suzette McNaught, information technology manager, JSE, while Keisha-Ann Morgan, trading manager, JN Fund Managers, explained the fundamentals of buying and selling shares.