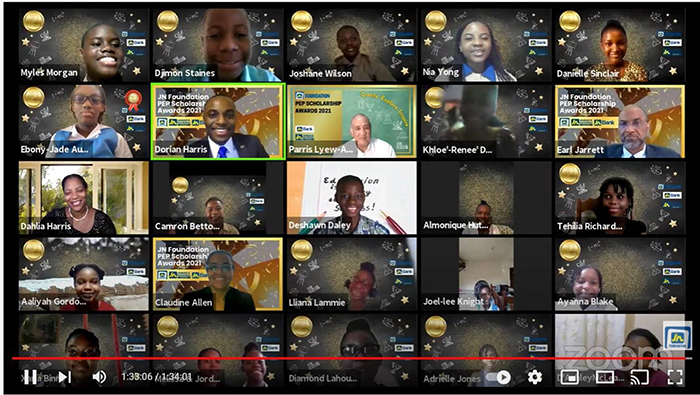 The Hon. Earl Jarrett, Deputy Chairman and Chief Executive Officer of The Jamaica National Group, has urged JN Foundation Primary Exit Profile (PEP) scholarship recipients to keep their passion and visions alive.
Mr Jarrett gave the charge while addressing the scholarship reception, which was held virtually recently, under the theme, "Create, Explore and Inspire."
"In this new world which you have entered today (secondary education), my charge to you is to: Develop and maintain your authenticity; and continue a lifelong interest in learning. I urge you to be perpetual learners and to be constantly curious," he said, as he advised them to use the latest technology in their educational development.
He also informed the recipients that it was not too early for them to commence their journey to financial literacy and to develop the habit of saving. He pointed out that it was important to plan financially so that they can achieve their goals.
Mr Jarrett encouraged the recipients to be change agents like Greta Thunberg, a young Swedish environmental activist who is known for challenging world leaders to take immediate action for climate change mitigation.
"I'm hopeful that you will help to shape and move the world for us. A world that is kinder; a world that is environmentally stable; a world where people respect each other; and where people are dependable and transparent in their dealings. I, therefore, invite you to be that change because you have the power in your hands," he affirmed.
Parris Lyew-Ayee, Chairman of the JN Foundation, underscored that the scholarship recipients have just started their journey, and they should continue improving on their studies.
"Always strive for excellence and make it a lifetime way of life and habits, which will serve you well for the rest of your life," he noted, as he pointed out that as a former scholarship recipient, he was able to fulfill his dreams to contribute to his country.
The geologist pointed out that the scholarships offered by the JN Foundation to the recipients signalled a commitment and belief in their ability to excel.
"We want to help you to maximize your high school journey. For our country to move forward and take, rightful place, we must ensure that our people are educated. The JN Foundation is, therefore, happy to invest in our young people by awarding these scholarships," he said.
Dahlia Harris, actress, media personality and director, who was the guest speaker, advised the recipients to tap into their creativity.
"Creativity is something which every one of you can tap into because creativity is about finding something that you love, which resonates with you or fills a need. Create things that you wish existed, which is a terrific way to start," she pointed out.
The Jamaican actress added that the pandemic offered opportunities for everyone to explore things worldwide, and through the latest technology, that exploration is possible – even without travelling.
Ms Harris acknowledged that the scholarship recipients are an inspiration to others because they have beaten the odds, emerged with good grades, and have been awarded a scholarship.
"Already, you are inspiring others around you. You are inspiring your classmates to work harder. You are inspiring them to apply themselves. You are inspiring them because they know if they work as hard as you do, if they are as determined as you are, then success and reward will come," said Miss Harris.
Camron Betton, a recipient and student at York Castle High School, in thanking the JN Foundation on behalf of the recipients, said that he and his peers were grateful for the scholarship and that it will impact their lives in a significant way.
The 37 students, who recently matriculated to high schools across the country, were awarded five-year scholarships, to recognize their outstanding performance in this year's PEP exams. In addition to the PEP scholarship awards, 16 students at the tertiary level will receive financial assistance to pursue their studies.