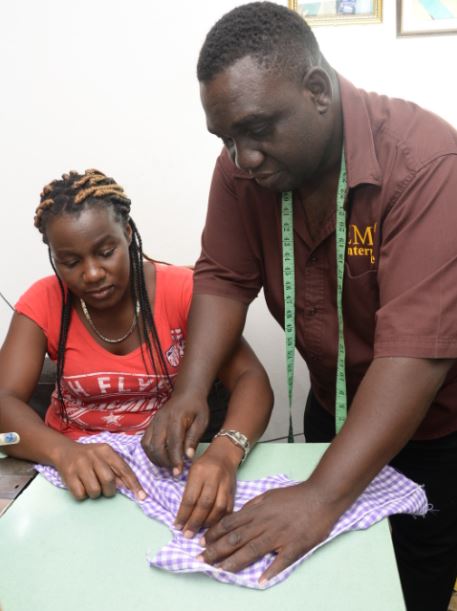 Mr. Mason assists his employee Laufia Crosdale to stitch a uniform.
One of Earl Mason's proudest moments in his more than three decades of being a tailor was the first time he made a skirt! At the time, he was in sewing class at school and imagined himself stitching it for the prettiest girl in his class. He was, therefore, quite surprised when he discovered that he would be the one to model the finished product.
"I was at Mona Secondary, at the time, and I was so excited that I went home and told my mom about it," recalled Mr Mason.
"She bought me a length of tie-dyed material. Then, I went to school and asked my teacher who would be wearing it. When she said I was sewing it for myself. And, I would be the one to model it, I was shocked. However, I finished the skirt, modeled it, and was applauded by the entire student body," he related.
Mr Mason is now the owner of EMR6 Enterprise, a garment manufacturing operation, off in Duhaney Park, Kingston 20.  Although his mother supported him by purchasing the material for the skirt, she was not enthusiastic that he decided to become a tailor.
"I wanted to learn how to sew, based on a dream I had when I was nine years old," explained Mr Mason. "When I was 13, I started learning the trade. My mother wasn't pleased because she saw the industry as being for persons who could not succeed academically. As a result, she and my older brother punished me frequently."
While in high school, Mr. Mason stated that life was difficult and his mother could not even find the money to pay for his graduation gown.
"I remember that I had to borrow a pair of shoes that was much smaller than my feet. It hurt while I walked to the point that when I was going home I had to turn it into a slippers to ease the pain," he recalled.
After serving as an apprentice with a tailor in his community, the father of one worked with the same company where he interned during high school. However, he dreamed about operating his own company and wanted to learn more about the industry. When his uncle offered him a job as a production manager at his establishment, he jumped at the chance.
"I was there for a while, however, I was not satisfied and, therefore, left. At one point I migrated," he explained. "And, when I came back home, I was employed to another garment manufacturing company. They offered me a percentage of a contract if I taught their other employees how to sew. And, I subsequently used the funds from that sub-contract to purchase three machines and started my own business."
His busiest periods are from May to year end when summer events, back-to-school preparations and the Christmas period keeps him occupied and provided employment for his staff of seven.
It was during those busy periods that he relied on JN Small Business Loans (JNSBL) for support to purchase raw material to meet his clients' demands.
"JNSBL assisted me a great deal," stated Mr Mason, "They responded at a time when I secured a contract and needed funds to purchase raw material. And, after their assessment, they provided the support I needed. The process was smooth."
He also noted that, "JNSBL taught me to be disciplined, manage money and, also pay attention to the administrative aspect of my business."
Gillian Hyde, general manager, JNSBL commented on Mr Mason's operations. "Mr Mason was eager to do well and wanted to help his community. He was also on the current season of The Innovators and benefitted from the advice he received. We welcome the opportunity to provide Mr. Mason with the appropriate JNSBL loan possibilities along with training needed to strengthen his operations that will help him to achieve his goals.
We will continue to encourage and support him in whatever way we can."
Mr. Mason is the first to arrive at his factory in the mornings, and the last to leave at nights. He enjoys teaching others to sew; and plans to further expand his company; and employ at-risk youths to teach them his skills.
Up to late last year, he marketed his business mainly through referrals. However, after being   featured on "The Innovators," a 30-minute reality TV series, which challenges up-and-coming entrepreneurs to grow their operations, he experienced an upswing in business.
"January to April used to be a slow period," he stated. "Hence, I had fewer persons working with me. But, now, everyone is here full time. The Innovators programme helped me to become a better entrepreneur and increased my clients. I now serve a law firm, several basic schools, and corporate companies, as well as, my regular clients."
Mr Mason, who grew up in Papine, St. Andrew, plans to train more persons in the future. He believes being able to sew is a dying art and hopes that more person will see it as a career path.
"Many persons who sew these days use patterns. I want to change that and will be teaching more young people this skill, because being a tailor is a worthwhile vocation," he maintained.