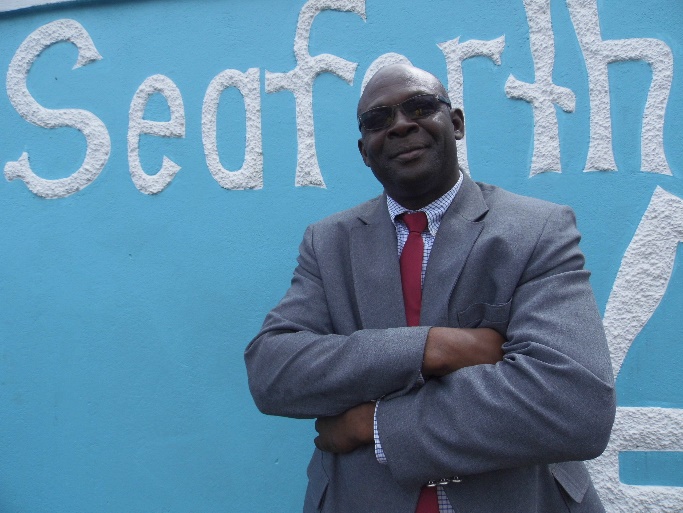 From being an ice-cream vendor at the back gate of Seaforth High (formerly Seaforth Secondary) to becoming the principal of the school, Calbert Thomas' inspiring life story could easily become one of the next bestselling novels.
Still fresh in his mind was how he was heckled by fellow vendors when he told them that his dream was to become a teacher at the school where he was once a student.
"They all laughed at me. I was so embarrassed," he relates.
Today, Mr. Thomas is having the last laugh, because not only did he become a teacher at Seaforth High, he has successfully risen through the ranks to become principal of the 47-year-old institution.
"I couldn't have done it without God. He is the one who made it possible," the Principal maintained.
Mr. Thomas, who grew up in a single-parent household, disclosed that his journey to achieve success was punctuated with hardships.  He credited his mother, Imogene Stewart, a former fish vendor, for creating stability in his life.
"We were so poor that often we didn't have anything to eat.  We lived in a house made from bamboo after we were evicted. My sister and I, being the elder ones, had to alternate going to school, so that we could look after our younger siblings. And, on Fridays, we had to go to the field to help my mother."
Despite his poor attendance, he graduated from Seaforth Secondary with four Secondary School Certificate subjects, however, four years later he was still jobless.  When his path crossed with Pastor Norman McHugh of the White Hall Pentecostal Church, that meeting became the turning point of his life.
"Pastor McHugh reinforced in me that I could achieve anything in life. He went as far as calling me 'doctor.'   At the time, the church he was pastoring was undertaking a building project, and he asked me if I could sell ice-cream to raise funds."
For four years, Mr. Thomas sold ice cream at the back gates of Seaforth Primary and Seaforth Secondary Schools, during their respective break periods.  In a strange twist of fate, the same year that the church building was completed, the ice-cream business took a nose dive. That led him to venture into selling bread and cheese, as well as sky juice from a handcart at the back gate of Seaforth Secondary.
Through the influence of another good Samaritan, Gwendolyn Morgan and her family,  Mr. Thomas enrolled at the Vocational Training Development Institute (VTDI) in Papine, St. Andrew, where he obtained a certificate in Machine Shop and Welding.
Shortly after his graduation, he successfully filled the vacant position of the Industrial Arts teacher at Seaforth Secondary; however, he faced the arduous task of transitioning from a vendor to become a teacher in the minds of many. Some of the teachers did not welcome him, while some parents questioned his capability.
It didn't take him long to command the respect of his 'naysayers', after his students began flourishing under his tutelage.
Further studies at VTDI earned him an Instructor Certificate in Machine Shop and Welding and two diplomas in Mechanical Engineering Technology.    He later attended the Mico University College, where he pursued the Bachelors of Arts degree in School Management and Leadership.
And, following his appointment as Vice Principal at Seaforth High, he was driven to achieve further academic success; therefore, he returned to Mico University College where he obtained an Executive Master's degree in Education and Management.
Today, Mr. Thomas manages a staff complement of 94 teachers; 67 non-teaching staff members; and a student population of 1,400 at the school, which currently operates on two shifts.
One of the biggest cheerleaders is his wife, Lincent, a school teacher at White Hall Primary.  He explained how her support encouraged him to achieve his dream.
"When we were dating, people ridiculed us because I was then a handcart vendor and she was a teacher.  This year we will celebrate 27 years being married."
Their union has produced three children: Roxine, who recently completed a Bachelor's Degree in Physiotherapy at The University of the West Indies (UWI); Ashleigh, who is in her third year at The UWI pursuing the Doctorate of Dental Surgery; and Collette, who will be heading to the university later this year, to pursue a course of study in the field of medicine.
Mr. Thomas' dream is to pursue his doctorate degree one day, thereby fulfilling Pastor McHugh's declaration made to him as a youngster.