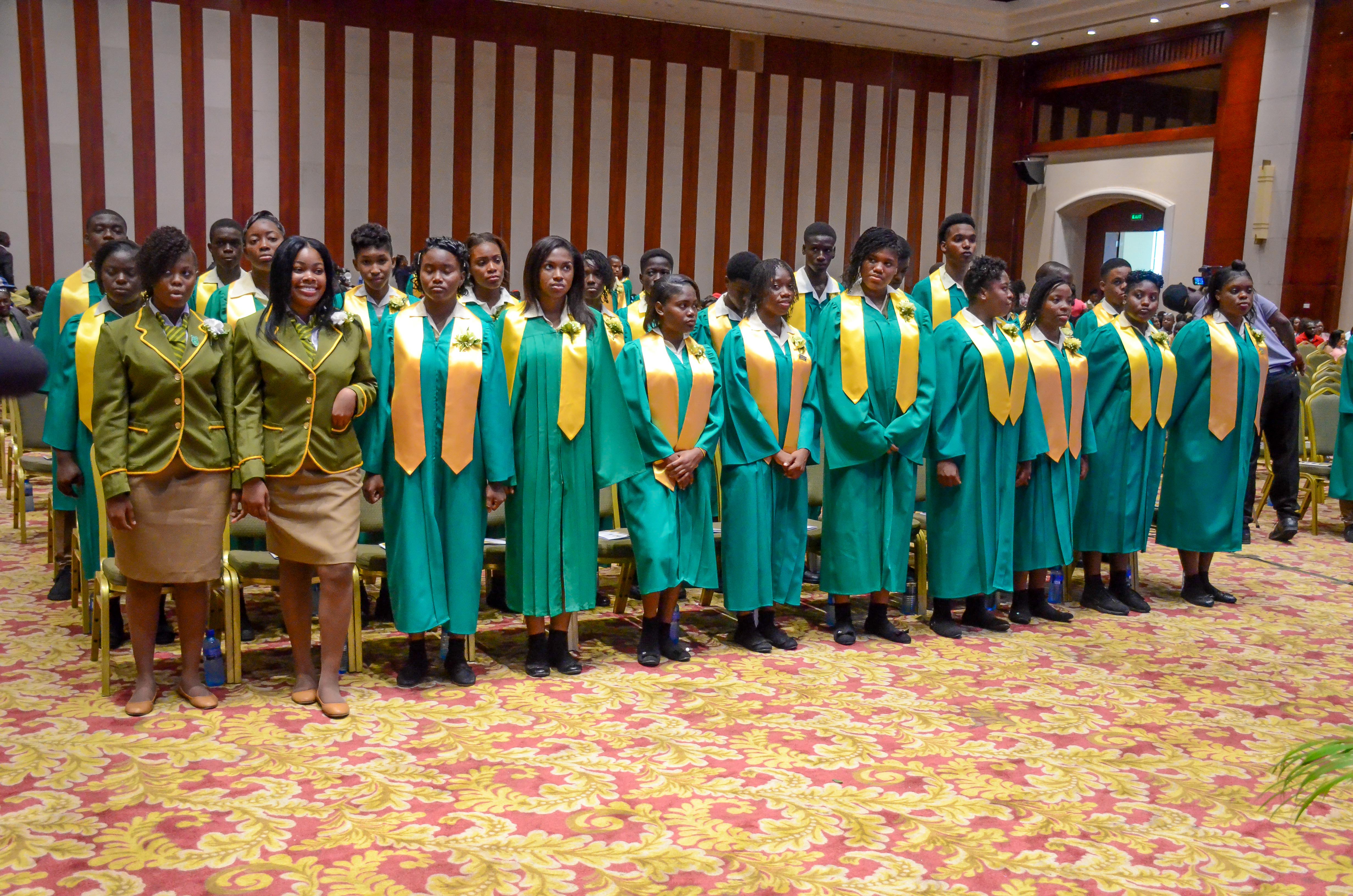 The Green Pond High School Class of 2017.
Well-known educator, Dr Renee Rattray, senior manager, Learning, Development and Culture at The Jamaica National Group charged school leavers to be purposeful, to always put their best on display, as they move on to higher education or enter the world of work.
Speaking to graduates at the Green Pond High School in St James last weekend, June 30, Dr Rattray stressed that young people must set and maintain high standards for themselves; and to stand up for their rights; as well as the rights of others.
Green Pond High was the top participant in the comprehensive Centres of Excellence programme, implemented by The Victoria Mutual Building Society and the former Jamaica National Building Society, now JN Bank. The high school achieved significant positive academic and administrative changes, resulting from their involvement in thechange leadership initiative, which was implemented from 2008 to 2013.
"To be successful…don't settle for anything less than the best. If it's not exceptional then it's not good enough. You have to show up. No mediocrity. No excuses," Dr Rattray stressed.
In that vein, shealso encouraged the Green Pond graduates never to assume that they know enough.
"You can learn anything," the educator advised. "With the press of a button you can learn everything, and there are no excuses not to learn. You can teach yourself at home," she emphasised pointing to the ease with which information can be garnered using social media."Read, read, read, read…" she emphasised.
Referencing the concept of the Danger of the Single Story by ChimamandaAdiche, the JN Group senior manager added that students should not accept stereotypes of themselves, but continuously write their own stories, so that others may have a full understanding and appreciation about what they can do and achieve.
You know the stories about Green Pond being a bad school in a bad area and you are not going to come to anything; but, you are writing your recommendation every day. Therefore, it means that you have to tell your own story," she told students.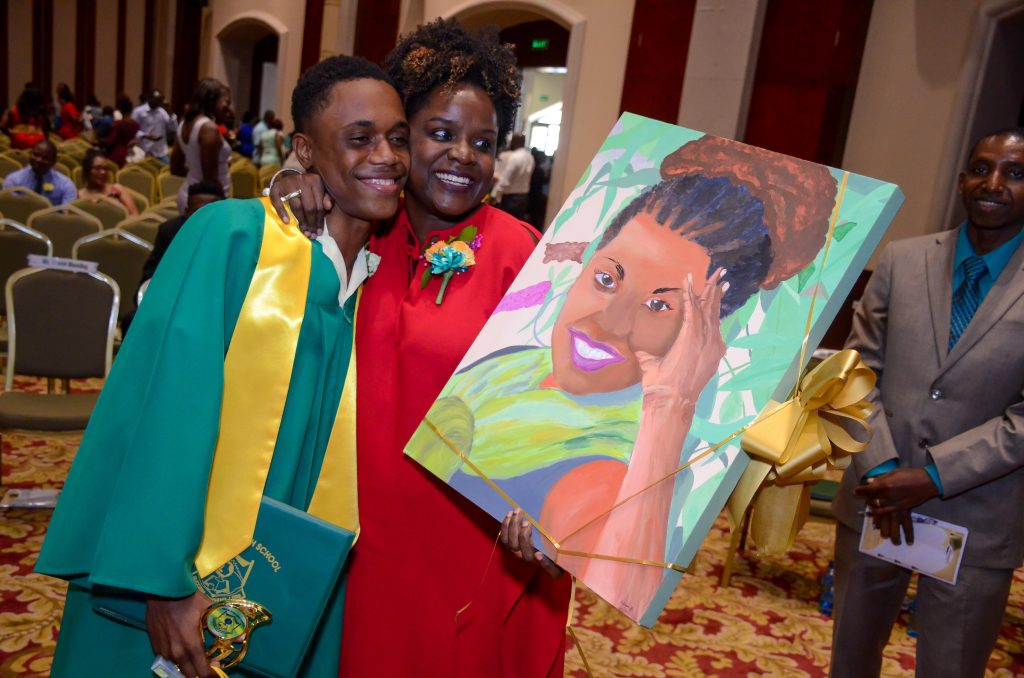 Budding artist, Ryhime Lindsay, receives a hug from Dr Renee Rattray, senior manager, Learning Development and Culture at The Jamaica National Group as he presents her with a painting of herself during the Green Pond High School valedictory service. Dr Rattray was guest speaker at the service held at the Montego Bay Convention Centre, recently (June 30). Green Pond High in St James was the top of six rural high schools which participated in the five-year Centres of Excellence project implemented by the Jamaica National Building Society, now JN Bank, and The Victoria Mutual Building Society. The school leadership programme ended in 2013.
She encouraged students to stand up for their beliefs and principles and not to allow others to trample on what they take pride in.
"Stand up for something, know what you believe in; and stand up for what is right every single time," she said. "Even when you are standing alone…there are lots of things in this world that will come at you, but you should not compromise."
"And when you stand up, it's not only important to stand up for yourself, it's also important to stand up for others, especially others who don't have a voice," Dr Rattray counselled school leavers.
She encouraged graduates to maintain high standards and principles by looking out for others; and added that it was important for the students to also have mentors.
"You are not going to go anywhere fast if you are around people who are going nowhere; therefore, you need to align yourself with people who are going to challenge you; who will not always agree with you," she implored.
"Get up, show up, stand up and stay up," she summarised her message.
Principal, Michael Ellis, also charged his graduates to walk with confidence; and reminded them that they are a "big deal."
"We have been transforming the educational landscape in Jamaica and we have been achieving that by students, who I call, a 'big deal'," he said, to great celebration as Christopher Martin's popular song "I'm a Big Deal" blared from speakers.
He said that in the past five years, the school grew from one where more students were seeking transfers out of the school…to one where more students are seeking transfers to the school.
Mr Ellis stressed that Green Pond would continue to work to change the mindset of persons who pigeonhole the institution,because of its location near some of St James' most notorious communities.
And, he emphasised that the school would continue to produce quality students, who perform well academically and in sports; as well as work to improve the educational attainment of residents in the surrounding communities.
"Short courses, such as building services and customer service; entrepreneurship, crop production, plumbing, barbering, digital animation, clothing and textile, among others will be offered to residents in the community to make people more readily employable and create jobs," he revealed.
More than 100 students graduated from Green Pond on June 30. One hundred per cent of students who sat examinations inAgricultural Science, Visual Arts, Industrial Arts and Principles of Business attained passes.
THE JAMAICA NATIONAL GROUP  
The Jamaica National Group Limited (JN Group) represents one of Jamaica's most recognisable brands, with more than 14 decades of history in Jamaica and overseas. The JN Group, which retains the mutuality of its predecessor, the Jamaica National Building Society comprises:
JN Financial Group, with subsidiaries offering a range of financial services, including commercial banking, insurance, investments and remittances
MCS Group, with subsidiaries offering technology, creative and fleet management services
JN Foundation, one of the leading corporate foundations in Jamaica
The JN Group is committed to the success and growth of its members while using business as a force for good so that, together, we can improve the outcome of Jamaicans wherever they may reside.
JN BANK
On February 1, 2017, the 142-year old Jamaica National Building Society (JNBS) was converted to JN Bank, becoming one of the three top commercial banks in Jamaica.  JN Bank is a subsidiary of The Jamaica National Group. It is dedicated to the financial growth and success of its members and customers and committed to high quality service, innovative solutions and low fees. Visit www.jnbank.com for more information.