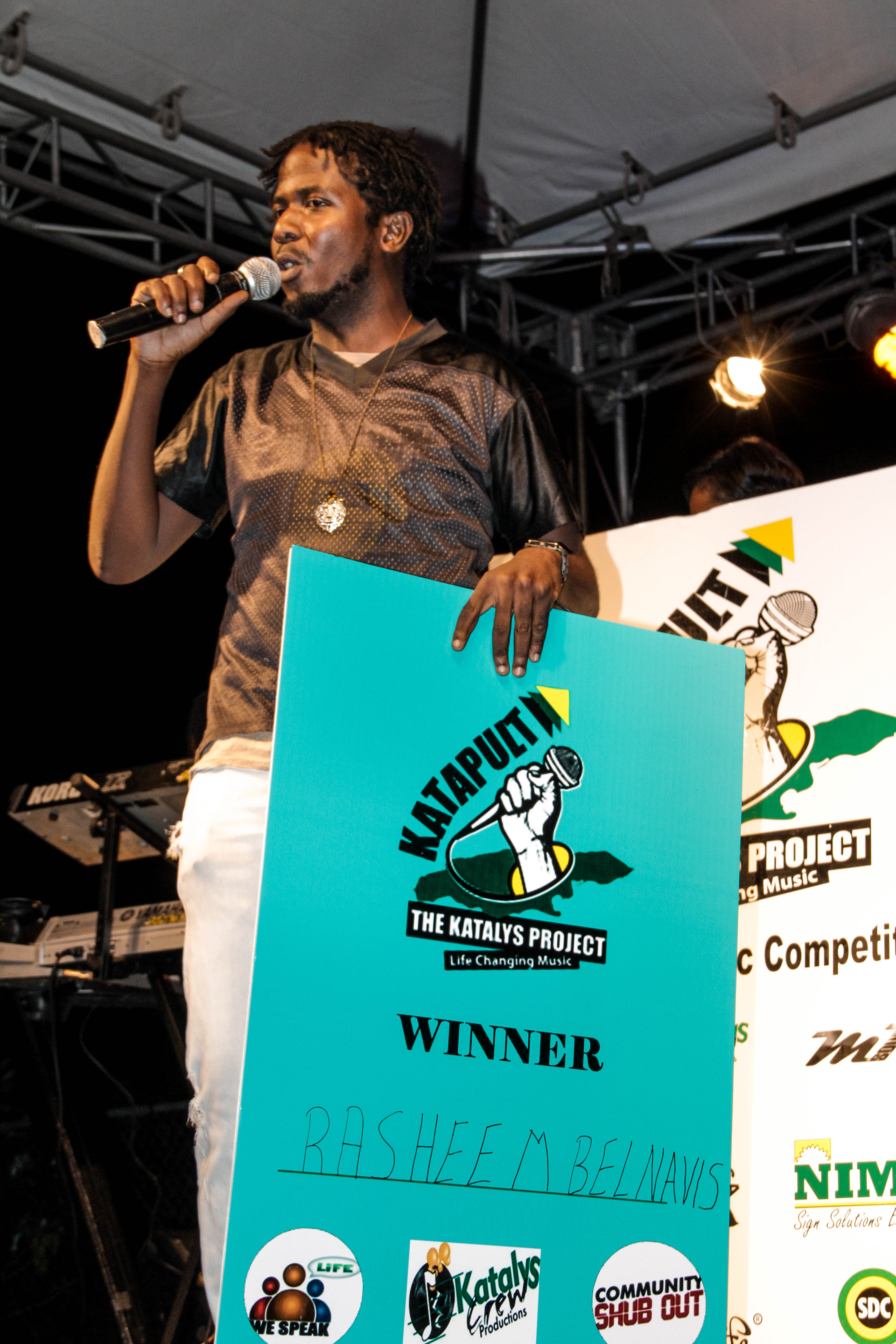 Rasheem 'Belando' Belnavis performs his winning song, 'Crime and Violence to Cease' at the Community Shub Out Initiative at the Olympic Gardens Civic Centre in St. Andrew in late February.
Rasheem Belnavis is looking forward to a long and successful career as a singer and songwriter. He is optimistic after the song he wrote, "Crime and Violence To Cease" won the Katapult Songwriting Competition in late February at the Olympic Gardens Civic Centre in St. Andrew.
Belnavis, whose stage name is Belando, won the finals of the competition, which was mounted by Katalys Crew Production as part of the Community Shub Out initiative. The song competition, called "Katapult," was mounted in association with Fi Wi Jamaica Project, We Speak Life Global, the Social Development Commission, JN Small Business Loans (JNSBL), JN Money and the Olympic Gardens Community Development Centre.
"I first came up with the idea for the song after listening to the news for most of last year and hearing about the crime and violence that was taking place in Montego Bay, May Pen, parts of Kingston and in other parts of the country," said Belnavis.
The dispatcher at Jamaica Observer, who has been singing since he was nine years old, took two weeks to pen the lyrics for his song.
"I wasn't concerned about winning. I simply wanted an outlet to express my sadness about violence; and the fact that children were afraid because of what was happening. It was hard to write. It took me two weeks to come up with the melody and the correct words," he explained.
Belnavis learned about the competition on social media. He submitted a 30-second video, made a voting round on social media, prior to making it into the finals where he performed the song. The lyrics were required to deliver positive messages, no violence or explicit words and to encourage community unity and love.
As winner of the competition, he will receive a single recording contract from Katalys Crew Production and the opportunity to record his song; as well as, receive airplay in the Caribbean and parts of North America along with a starter promotional kit to include online distribution
"I learned so much. I learned about copyright, registering my works and all the business aspects of the music industry, as well as managing my social media pages, all of which I would take for granted. I am especially happy with the presentation from Paul Barclay of Katalys Crew, who told us about copyright and the Jamaica Association of Composers, Authors and Publishers (JACAP)," he related.
Paul Barclay, the manager of Katalys Crew Production, said that the competition was geared to capacity building; equipping music aspirants with the knowledge they needed to start their music career; as well as, to learn to manage their music business.
"The competition's aim was to connect communities to unearth talent and to provide exposure and tools to launch careers," Barclay explained. "Unlike existing competitions, we opted to do this one at the community level, so that participants will benefit from the additional training in the music business."
Mrs. Jacqueline Shaw-Nicholson, communication and client services manager at JNSBL, said that the loan company became involved with the project because music was a viable form of entrepreneurship.
"The creative industry represents a viable career and also a route to entrepreneurship. Many musicians have been able to earn and venture into other operations; therefore, we are more than pleased to support this initiative," she said.
Belnavis, who is looking forward to his first studio session, hope to do music full-time, eventually. "I have responsibilities and I am working. But, I hope to become an artiste, performing at concerts and writing songs," he affirmed.