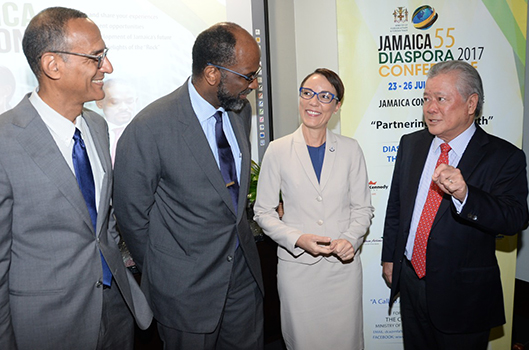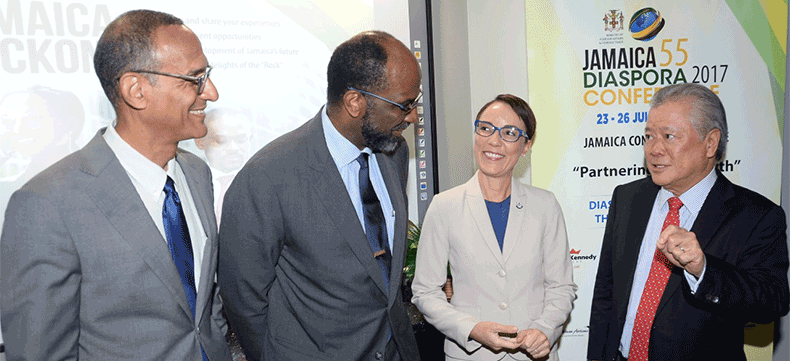 Jamaicans will soon be able to measure the economic contribution of its nationals in the Diaspora when a study is completed  by the Caribbean Policy Research Institute (CaPRI), and the Jamaica Diaspora Institute.
Minister of Foreign Affairs and Foreign Trade, Senator Kamina Johnson Smith, pointed out that the study, which is supported by The Jamaica National Group, will provide essential data about the value of the relationship between Jamaica and its Diaspora.
"The Economic Value of the Jamaican Diaspora" study is expected to be partially completed by the Jamaica 55 Diaspora Conference, due to be held July 23-26, under the theme, "Parterning for Growth," when some results will be released.
"This study will help to fill the gaps in information related to the involvement of the Diaspora in national development," Minister Johnson Smith  revealed.  She said that strategies for Diaspora engagement could be developed, "taking into account their unique needs and preferences in their respective locations."
She was addressing the launch of the study on Jamaica Diaspora Day, at the JN Financial Center in New Kingston, on June 16.
Given the differences within the Diaspora, based on their location, social and economic  diversity, Minister Johnson Smith  pointed out that "Policies and engagement activities must, therefore, consider these nuances."
Dr Damien King, CaPRI executive director, indicated that the  study will estimate the current value of economic activity resulting from Diaspora contributions; and look at the potential growth; as well as, areas that can be expanded.
"The methodology is to measure each area as accurately as possible, to make an estimate of the current economic value," he said. "The second question to ask is: What is the potential of each? And, look at what are the determinants."
To carry out the analysis, the Diaspora contribution will be divided into remittances, investment, exports, tourism and philanthropy, he explained.
"We are going to have some results for the Diaspora Conference," Dr. King said. "The project will not be completed at that point; however, we will be far enough along, to that we will be able to present some findings."
Professor Neville Ying, executive director, of The Jamaican Diaspora Institute, said that "the study is based on the premise that the Diaspora is of strategic value to Jamaica."
A study of 15 countries that have important Diaspora engagements produced two findings. He said, "They used effective Diaspora engagement strategies and these effective strategies have significant effect on their social and economic development."
Earl Jarrett, chairman of the Diaspora 55 Conference, pointed out that, "We have spoken about the contribution of the Diaspora, but we have never sought to measure it."
The chief executive officer of The Jamaica National Group, further explained, "We want to count the Diaspora's contribution, as it is said that what is measured gets implemented; therefore, it is appropriate that we carry out this exercise.