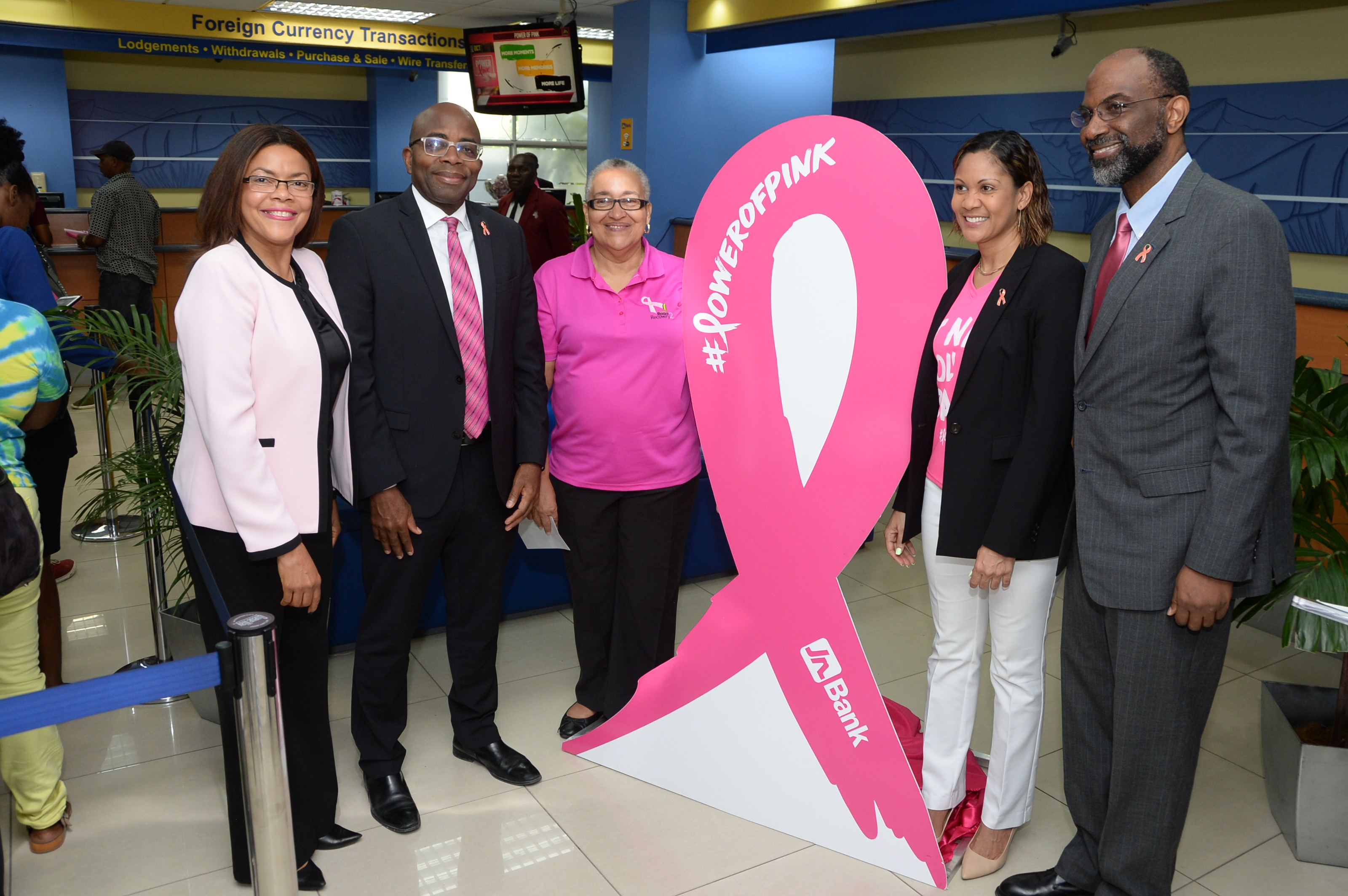 In support of the ongoing fight against breast cancer, JN Bank has launched a month-long campaign, the 'Power of Pink', starting on Monday, October 1, 2018.
Leesa Kow, deputy managing director, JN Bank, said the initiative will celebrate and empower the 'Women Warriors' across Jamaica who are battling this dreadful disease and honor those whom we have lost in the battle.
Data from the Jamaica Cancer Society (JCS) reveals that one in every 21 women in Jamaica will develop breast cancer in her lifetime. Breast cancer remains the leading cause of cancer-related deaths in Jamaica among women above the age of 25 years. It accounts for 29.4 per cent of all cancers in Jamaica, with an incidence rate of 43.1 per 100,000 in women and 0.6 in men.
"It is those alarming figures that have called us to action," Ms Kow said. "This knowledge, along with JN Bank's commitment to positively impacting the lives of Jamaicans, has been the impetus for the decision to vary the way we observe Breast Cancer Awareness Month in 2018."
She added: "As a good corporate citizen, and in light of the alarming statistics, we recognised that we needed to do more, especially when one considers the tremendous national socio-economic impact that breast cancer has on our society."
Research shows that the high cost of treating the disease has led to bankruptcy for many Jamaican families. The indirect effect on productivity for those directly affected and also for those caring for these Warriors has also been significant. Breast cancer, therefore, poses a major public health challenge and a threat to national economic and social development.
Ms Kow said JN Bank is, therefore, committed to supporting the research that will one day lead to a cure for this disease that has impacted so many families.
Among the activities that the JN Bank has planned for the month of October is a "Solidarity Day" on Friday, October 19, 2018, on which Jamaicans across the country are invited to unite in celebration of the lives of those whom we have lost in the battle with breast cancer.
"On that day we will offer free health checks and advice about cancer at our Chief Office in Half-Way-Tree. We will also be offering, free of charge, a limited edition Power of Pink Debit Card at all our branches across the country. The debit cards will be available for distribution, while stocks last," Ms Kow informed.
She noted that at 6:00 pm in the evening, the bank will also host a special candle lighting ceremony in the car park at JN Bank Chief Office in Half-Way-Tree.
"We will celebrate the lives of the warriors who are no longer with us. And, we invite both Warriors and the loved ones of Warriors to join us, and light a candle for either themselves or for someone they have lost," Ms Kow stated.
Proceeds from the campaign will support the work of the Jamaica Cancer Society and Jamaica Reach to Recovery.
Persons can also make donations to the Jamaica Reach to Recovery via the ISupportJamaica crowdfunding platform. Contributing to any initiative via the platform is simple and secure. Interested persons can donate by visiting the ISupport Jamaica.com platform at www.isupportjamaica.com, click on the project; and then click the "Fund Project" button.
In addition, donations can also be made via credit card; JN Live E-banking; by visiting any JN Branch or MoneyShop; and through interbank transfers.