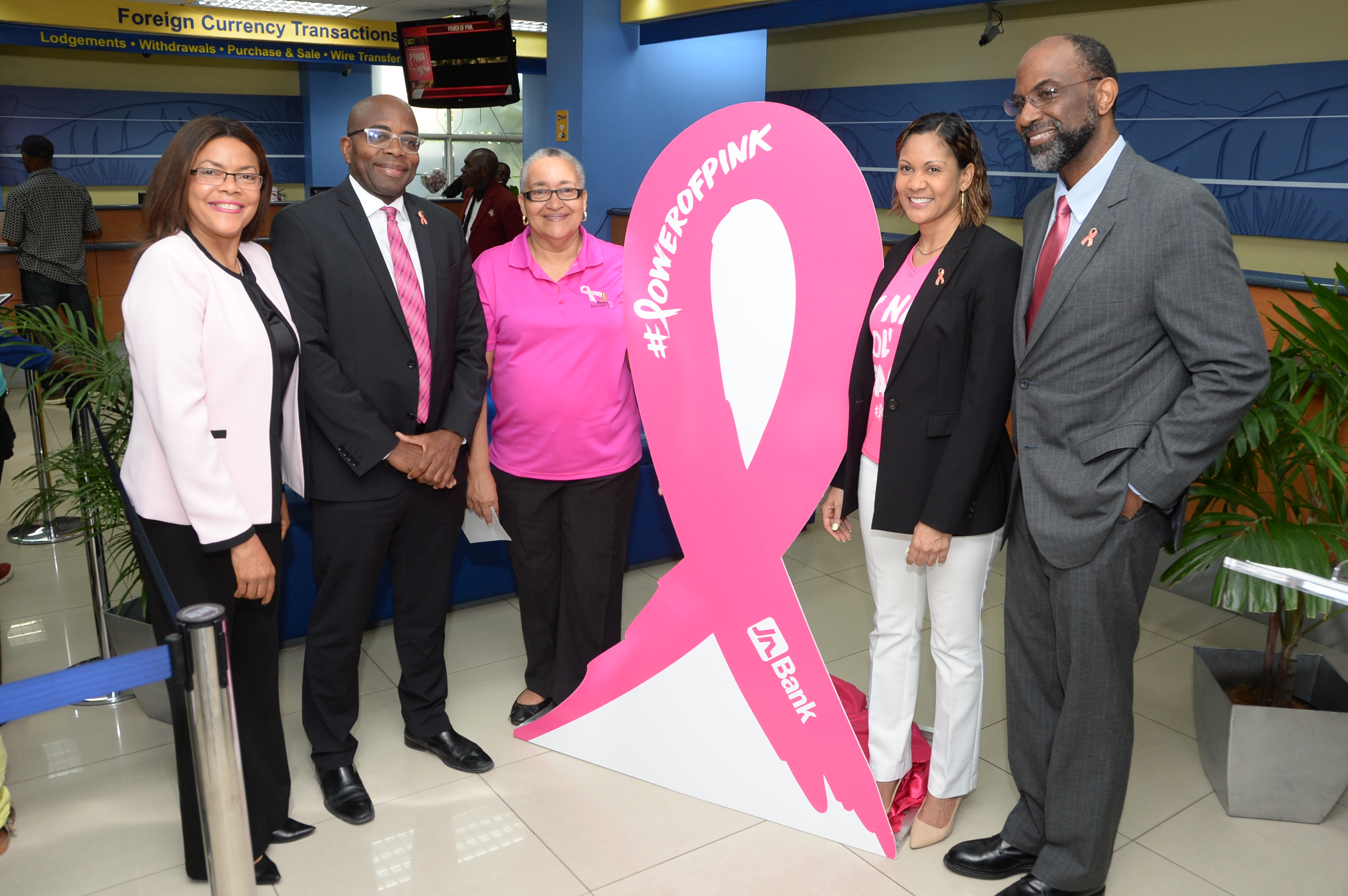 Jamaicans are being encouraged to join in the fight against breast cancer on Friday, October 19, as the JN Bank hosts Solidarity Day 2018.
This special day of activities is being held as part of the JN Bank's Power of Pink campaign, as the financial institution continues its drive to raise public awareness.
Leesa Kow, deputy managing director JN Bank, said the aim of Solidarity Day is to unite Jamaicans in the fight against breast cancer and to give hope and inspiration to the persons that are battling this disease.
"Our goal is also to raise well-needed funds to provide treatment for women afflicted with breast cancer," she explains.
As part of the activities, JN Bank will offer free health advice about cancer at select branches across the country. The locations include: The JN Chief Office in Half-Way-Tree; and its branches in Ochi Rios, Savanna la mar, May Pen, Port Maria, Market Street and Morant Bay.
"We want to generate awareness about the importance of screening, doing a mammogram and consulting with your doctor about any changes you detect," she said.
Members will also have the opportunity to receive critical illness premium vouchers from JN Life representatives.
"In addition, we will be offering, free of charge, a limited edition of the Power of Pink Debit Card, at all our branches across the country. The debit cards will be available for distribution, while stocks last," Ms Kow informed.
She announced that at 6:00 pm in the evening, the bank will host a special candle lighting ceremony and concert in the car park at its Chief Office in Half-Way-Tree.
"We will celebrate the lives of the warriors who are no longer with us. And, we invite both Warriors and the loved ones of Warriors to join us; and light a candle, either for themselves, or for someone they have lost," Ms Kow stated.
"Everyone is invited to attend," she announced, "You may also donate $500 to the Jamaica Reach to Recovery via www.isupport.com, and receive a pink candle which you can light in honour of a loved one."
Jamaica Reach to Recovery is an affiliate of the Jamaica Cancer Society (JCS), which offers emotional, psychological and financial support to breast cancer survivors. The organisation includes volunteers who are breast cancer survivors.
The candle lighting ceremony will be followed by a concert featuring performances from Kevin Downswell, Jermaine Edwards, Wayne Marshall, Jadore and Agent Sasco.
Proceeds from the campaign will go to support the work of the JCS and Jamaica Reach to Recovery.
Yulit Gordon, executive director of the JCS, said she is delighted by and grateful for the efforts of the JN Bank in its continued drive to raise awareness about breast cancer through its Power of Pink campaign.
She noted that, as the incidences of cancer continue to increase among Jamaicans it has become more urgent for us to enhance the level of awareness about the disease.
"Therefore, we are grateful for this dynamic support from JN Bank. The cost to access drugs to treat breast cancer is exorbitant; and, many women come to us for financial aid, to access treatment. We cannot raise enough funds to do all that we need to do; therefore, we need the intervention of corporate organisations such as JN Bank, and we commend them for this promotion," she said.
Persons can also donate to the Jamaica Reach to Recovery via the ISupportJamaica crowdfunding platform. Interested persons can donate by visiting the ISupport Jamaica.com platform at www.isupportjamaica.com, click on the project; and then click the "Fund Project" button.
In addition, donations can be made via credit card; JN Live E-banking; by visiting any JN Branch or MoneyShop; and through interbank transfers.