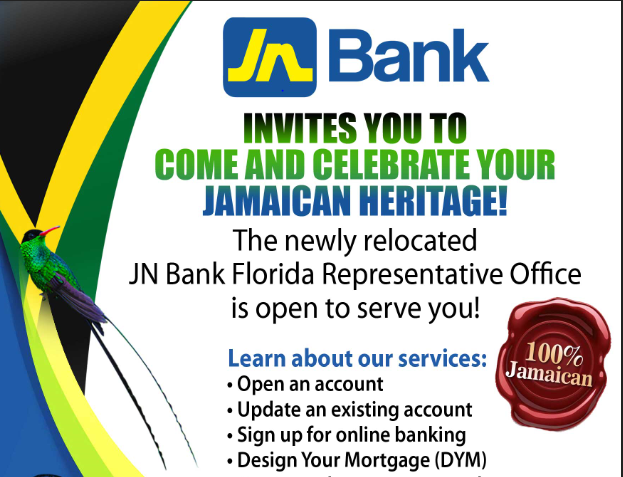 The JN Bank Representative Office in Tamarac, Florida will begin a campaign starting August 1 until October 31 2018 in celebration of its Jamaican heritage.
The campaign, entitled, "Celebrate Your Jamaican Heritage" will incorporate the celebration of Jamaican holidays including: Emancipation Day, observed on August 1; Independence Day, August 6; and National Heroes Day, October 15.
Janice McIntosh, chief representative officer, for JN Bank in Florida, said that the aim of the three-month campaign is to reintroduce JN Bank to its existing and potential clients that as a newly minted commercial bank, we can compete in the overseas markets with a number of our products such as long and short term savings and mortgage solutions.
"During the period, we will connect with members of the Jamaican community through media outlets, mail outs as well as encourage visits to the Representative Office." she explained.
In addition, Mrs. McIntosh stated that the aim of the campaign is to highlight the location of JN Bank in Florida and provide incentives to persons who sign up for a JN product or service over the period of the promotion.
The Representative Officer outlined that the newly relocated Representative Office will aid the opening of accounts; update existing JN accounts; assist with online banking via LIVE by JN; and facilitate mortgage applications; and highlight other products and services available at JN Bank.
The JN Representative Office has been providing residents of Florida with products and services since March 2003; and was recently relocated to its new office, located at 4257 West Commercial Boulevard, Tamarac, Florida 33319.