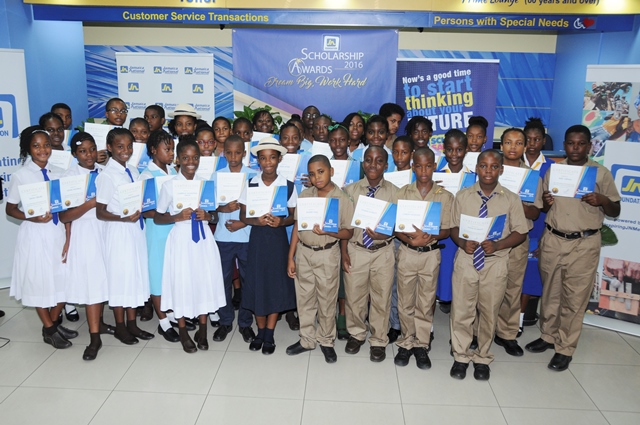 The 2016 JN GSAT Award Recipients
Forty-one outstanding students in this year's Grade Six Achievement Test (GSAT) were awarded five-year bursaries, and will be officially recognised as JN Scholars by the JN Foundation at a special Awards Reception to be held on September 10.
This year's awards represent the highest number of annual awardees since the inception of the JN Scholarship Programme in 1983.
Eleven-year-old Ryan Oliphant, a 2017 recipient, said that he was happy when he learnt that he was the JN Scholar for the parish of Manchester.
"My family and I were praying that I'll get good grades and a scholarship; therefore,  our prayers were answered," he said.  Ryan achieved a 98.2% average and has been placed at Manchester High, the school of his first choice. He credits his parents and teachers at El Instituto de Mandevilla for the support he received while preparing for the examination.
Dr. Renee Rattray,  director of Education Programmes at the JN Foundation, explained that the annual awards is one of the largest philanthropic efforts of the Jamaica National Group aimed to empower future leaders to achieve academic success. "We are committed to supporting young people in their educational pursuits. Annually, we provide financial assistance to more than 100 students at the secondary level; and 16 students at the tertiary level, attending The University of the West Indies; the University of Technology, Jamaica; the Northern Caribbean University and the University College of the Commonwealth," she pointed out.
Marie Fletcher, a transport operator in Spanish Town, St. Catherine, commends the JN Foundation for the financial support that her daughter, Hallie Fletcher, received during her five years at Campion College.   Hallie achieved nine distinctions in this year's CSEC.
"JN is doing a good job in helping people; and  I appreciate what JN did for me," she said.
The JN parish and school savers' scholars are selected each year by the Ministry of Education, while JN employees are encouraged to apply on behalf of their children, once they attain a minimum average of 85 percent.
Students are encouraged to maintain an average of 70 percent for the renewal of the award, annually. And, tertiary students are required to apply for the JNBS Foundation's one-year scholarship through the scholarship office at their respective university.
To date, hundreds of students have been awarded scholarships and bursaries to pursue their education at the secondary and tertiary levels.
This year's GSAT parish bursary recipients are: Aaliyah Edwards, Abijae Lemonius, Alessa Heron, Annalee Ellis, Antonia Binns, Attalia Forbes, Demaria Walker, Jahmoy Saunders, Lakeira Morgan, Oralee Jackson, Rodricka Thompson, Ryan Oliphant, Tiana Brown and Ty-era Hamil.
The JN School Savers awardees are: Orlando Stephens, Alaina Uter and Kelene McKenzie
The JN Employees' Children recipients are: Adjani Clarke, Alicia Knight, Aman Dihman, Amanda Lettman, Aundre Todd, Cadene Broomfield, Dominic Hale, Gabrielle Galloway, Jada Grey, John-Michael Thomas, Joshua Hyde, Justin Williams, Keon Scarlett, Kishayah Valentine, Kyra Stephenson, Michael Spence, Mikaylah Davis, Nicolai Brooks, Olivia Hope, PetaGaye Farquarson,  Shadae Foreman, Tremoy Robinson, Tyrique Johnson and Xyomara Salmon