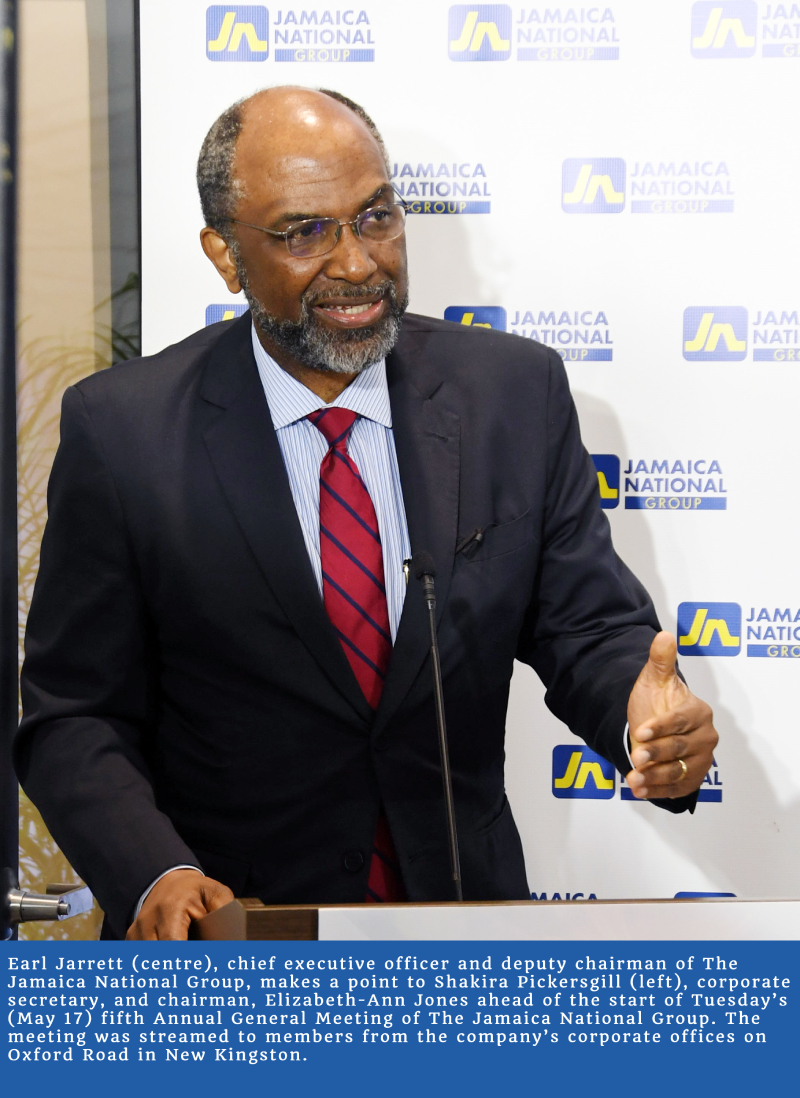 The Jamaica National Group invested heavily to ensure the protection of its employees and members and enable business continuity in the height of the COVID-19 pandemic during the financial year ending March 31, 2021.
Overall approximately $131.7 million was spent to implement measures to minimise the potential exposure and to ensure business continuity across the Group, chief executive officer, Earl Jarrett, revealed during the fifth Annual General Meeting of the Group on May 17. The hybrid event was held at the company's Oxford Road, New Kingston, headquarters.
The expenditure included the provision of computer equipment, furniture and other resources to employees to facilitate a large portion of the teams working from home; equipping in-office employees with personal protective gear such as hand sanitisers, masks and face shields; and making the necessary office space adjustments to comply with the mandated physical distancing rules. A significant amount was also spent on routine sanitisation of all work locations and spaces in keeping with government/public health restrictions in the various jurisdictions and attendant mitigating measures.
Beyond that, the Group also invested heavily in strengthening its ATM network and capacity, and other technology to promote convenience and speedier transactions for its members. It also apportioned assistance for members facing hardship and donated to groups to help them cope with the environment.
"All of these programmes and initiatives clearly indicate our understanding of the challenges being experienced by many persons. I use this medium to express our gratitude to our members and customers for their support, understanding and patience during these times, and for their continued loyal engagement and unrelenting commitment to the JN Group," Mr Jarrett said.
Technology upgrades
He noted that: "The challenges of the COVID-19 pandemic allowed us to focus on improving our internal operational efficiencies to better serve our members and customers. Consequently, we chose to invest to improve our service, upgrade our technologies and give more value to our members and customers," he said.
As a result of the upgrade to JN Bank's ATM network, for instance, 66 per cent of total deposits valuing more than $2 billion were conducted through its ATMs up to December 2020, compared to $443 million in the corresponding period of the previous year. The upgrade, which was to the tune of $187.9 million, included the deployment of additional Smart ATMs that facilitate card-less deposits and loan payments in real time.
The strengthening of the ATM network was in addition to the shoring up of the QueueRite system introduced shortly before the pandemic to manage in-branch traffic.
"We also introduced and fast-tracked new service options for members and customers. This included the implementation of the Queuerite system which resulted in a tremendous transformation of our in-branch customer service operations at JN Bank Jamaica. It reduced the time persons spent waiting in our banking halls and helped to refine our processes to ensure that our digital channels are at optimal levels to meet the increasing demands of persons for more effective use of their time," he reported to members.
During the period, the organisation also modified its presence in two Diaspora markets, introducing a remote concierge Customer Service Representative system via its call centre to serve members in the United States of America and the United Kingdom from Jamaica.
"To support this, we upgraded the call management system to respond to the increased calls. We acknowledge that further refinement of this initiative is needed to deal with the high volume of appointment requests coming from members via this channel. We are working assiduously to ensure that we respond to these requests in a timely manner," he said.
To further enhance its customer service delivery, The Group also embarked on the implementation of a new enterprise customer relationship management software to facilitate end-to-end tracking of customers' movement through the sales process. The software is an integral part of JN Bank UK's core banking platform and is being deployed to companies across the Group.
"Ultimately, we will have a 360-degree view of our members and customers and it will help us to be more responsive to their needs. We recognise that this is an area for improvement in our operations and so we are putting this system in place to support this new sales thrust and transition us to a sales-driven group," Mr. Jarrett outlined.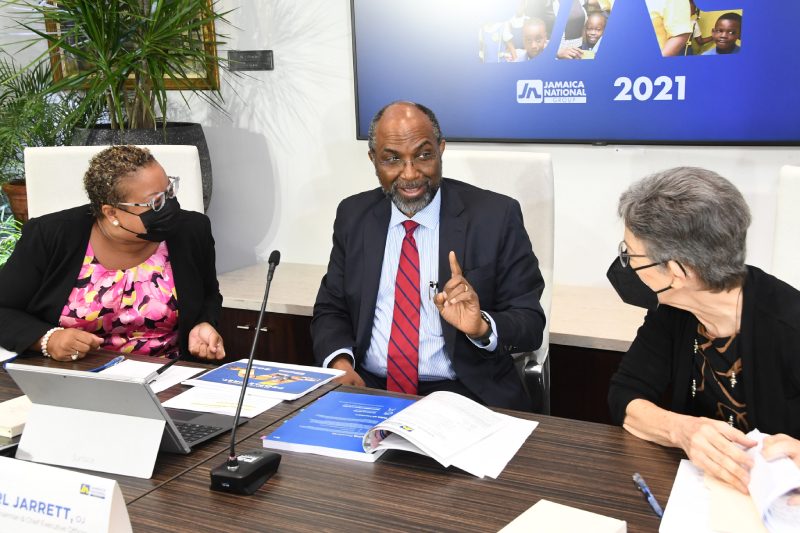 Support to members facing hardship
In addition to the heavy investment in technology, the JN Group provided moratoria on some $6.7 billion in loans to assist 1,428 members facing hardship due to the effects of the pandemic.
"A portion of these loans were repaid during the time specified, while some persons sought extensions. By the end of the financial year, approximately 4,000 moratoria loans were on the bank's books, with 55 per cent of them being actively serviced," Mr Jarrett said.
He added: "A programme was also implemented to assess the requests for an extension of the moratorium and arrange for collection of the outstanding amounts, where necessary. We also introduced a customer recovery loan programme to assist our JN Small Business Loans small and micro clients respond to the impact of the pandemic on their businesses."
The Group also accommodated PATH and Poor Relief beneficiaries, partnering with the Ministry of Labour and Social Security to dispatch cash grants through JN Bank locations and via JN Money- the group's remittance arm. Some 87,000 cheques were distributed and 16,500 remittance payments conducted.
Through its JN Foundation and JN Circle network contributed to civil service groups, particularly frontline workers and the vulnerable. This included the donation of $1 million to the National Council for Senior Citizens and the implementation of fora programmes to assist members and employees with coping.
In recognition of its outstanding customer service efforts during the period, The JN Group was awarded the 2020 Customer Excellence in Service Award in the large company category by the Jamaica Customer Service Association.
Was this article helpful?