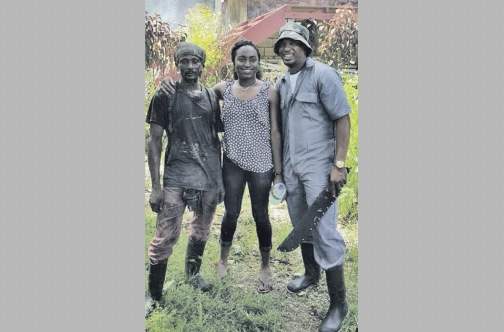 For the past year, almost every weekend, Saniah Spencer, chief – marketing at JN Bank, trades the convenience of modern living in the Corporate Area for a rustic environment in the country, as she retreats to a cabin in a remote area near the Buff Bay River in the parish of Portland.
Her fiancé, Nicholas Watt, a Marketing Officer and Graphic Designer at JPS, participates in these adventurous forays, as they escape from the hustle and bustle of the city, exhale, and connect with nature. It is that kind of experience which has made the parish of Portland one of this country's tourist enclaves.
"We both love nature, farming and the experience of country life," Saniah related. "Therefore, our getaways are stress relievers to focus and enjoy a rural experience."
Interestingly, neither Saniah nor Nicholas had prior exposure to country life, having been ensconced in the Corporate Area all their lives; however, together, they have discovered how rejuvenating it can be.
"None of my relatives live in rural areas; therefore, while growing up, I never had the opportunity to spend vacations outside of Kingston," she revealed.
Routinely, Saniah and Nicholas would embark on their weekend cross-country trip.  Last year, on one of those Saturdays, which coincidentally was her birthday, they discovered a well-fruited three-acre property in Portland that was available for lease. It was replete with crops including: plantain, banana, breadfruit, ackee, coffee, citrus, pear, coconut, sugar cane and coco.  One month later, they signed a ten-year lease agreement.
"We added sorrel, pepper and carrot; however, they, along with half of the other crops and the makeshift foot bridge which we used to get to the property were destroyed during the flood rains last October.  We generally take the produce to Kingston and give them to friends," she pointed out.
With the assistance of carpenters in the community, they have almost completed construction of the cabin. It is the only dwelling on that side of the river, accessible by a "foot bridge." However, due to the recent flood rains, the cabin can only be reached when the river is not in spate.
"The living conditions are very basic: There is no electricity, therefore we use lamps when we stay overnight.  There is also no running water, hence we installed a tank," she pointed out.
Andrew "Squiddo" Webber, a local resident, who maintains the property, also serves as the chef on weekends, cooking meals on a wood fire in the yard.
"We cook produce grown on the property.  We have ackee without the salt fish, which is quite tasty; and we use 'Janga' from the river to make soup," Saniah related.
In addition to her enjoyment of the breathtaking view of the lush fora and the serene environment, Saniah also combats with the fauna, given the presence of a variety of biting insects, frogs and lizards that she fears.
"I usually go inside the cabin before it gets dark to avoid them," she explained, adding that, "thankfully, the soothing sounds of the crickets, birds and the sound of the river compensate for the unwelcome creatures."
In addition to her rural weekends, Saniah occasionally unwinds some evenings at a local 24-hour café along with her fiancé, using the opportunity to converse and network with others.
An only child, she also spends quality time with her mother and her fiance's eight-year-old son. "I talk with Mom several times during the day.  And, sometimes, we go to football games, the movies and to visit places of interest."
The JN Experience
Fifteen years ago, Saniah started her tenure as a part-time Teller with the Jamaica National Building Society (JNBS), which transitioned to JN Bank in February of this year.
She quickly made several lateral moves and was promoted four times, ascending the corporate ladder. This she attributes to the on-the-job coaching she received and the support from her supervisors. Today, at 36 years-old, she has responsibility for brand and integrated marketing, sales promotions, events management and product development and is the youngest executive at JN Bank.
A few months before she graduated  from Northern Caribbean University (NCU), with an Associate's Degree in Marketing, she applied to Jamaica National for a position. And, despite the fact that there was no vacancy, at the time, she remained hopeful for a positive response; and accepted employment with another financial institution.
Saniah vividly recalls how persistent she was in being employed at Jamaica National.
"For four consecutive months, I called the JNBS HR department to ensure that I did not miss an opportunity…should a vacancy arise," she disclosed, maintaining that she did not want to work anywhere else.
Her perseverance paid off when she was offered a position at the JNBS Half-Way-Tree Branch in 2002.  Without reservation, she quit her Marketing Officer job, which she held for six months, to take up a part-time job, as a Teller, which paid less.
"My heart was set on working at Jamaica National," Saniah said.  "I had a memorable experience working at JN, as an intern, while I attended St Andrew Technical High School, she related.  "It was my first exposure to the working world; and I was smitten by the 'family culture', I experienced at JN. Staff members were caring, and I felt as if I belonged.  As a result, I didn't want to work anywhere else."
"My experience at JN has been a fulfilling one that has enabled my professional and personal growth.  What I enjoy most about being at JN is that I am given the latitude to execute marketing and sales strategies to meet the organisation's targets.  One of my most rewarding experiences was being integral to the startup of the MoneyShop model, which was a new concept to Jamaica." she explained.
Philip Bernard, then Executive in charge of Community Banking and Administration at JNBS, pointed out that Saniah was a valuable member of his team.
"She was proactive, always willing to try and was never afraid of failing.  She always takes initiative and if something didn't turn out well, she would use it as a lesson. Furthermore, she took instructions well."
Similarly, Sandra Jones, Sales Quality Reporting Officer in the Marketing and Promotions department at JN Bank, who has worked with Saniah for nine years, disclosed that she is diligent about every task she undertakes.
"She always looks for ways to get the work done. She is very progressive, focused, approachable, and provides opportunities for employees to grow.  I see her going places because she is a hard worker," Mrs Jones said.
As soon as Saniah settled into the rhythm of working with the Society, she diligently pursued the Bachelor of Arts degree in Business Management, with emphasis in Marketing, at the NCU Kingston Campus, after work.
Mentoring Youngsters
In addition to her work schedule, Saniah also makes quality time for ten youngsters,  14 to 18 years old, who live in the Rainford Road community, off Hagley Park Road.
"For the past year, Nicholas and I have been mentoring these young people," she revealed. "We both believe in giving back.  We talk with the youngsters, daily and inspire them to live positive lives.  We also take them on tours and, visits to the farm."
Devotion to Time Management
Saniah credits her devotion to time management, which enables her to maintain a balance between the rigors of corporate life and her personal life.  Her typical day begins by 6:00 am and ends at around midnight.
"At the end of my work day and extra activities, I unwind by catching up with news around the world," she informed. "I believe that it is important to be aware of what is taking place in the wider society, locally and overseas, so that one can make informed decisions; and, if necessary, influence what is happening."
Was this article helpful?