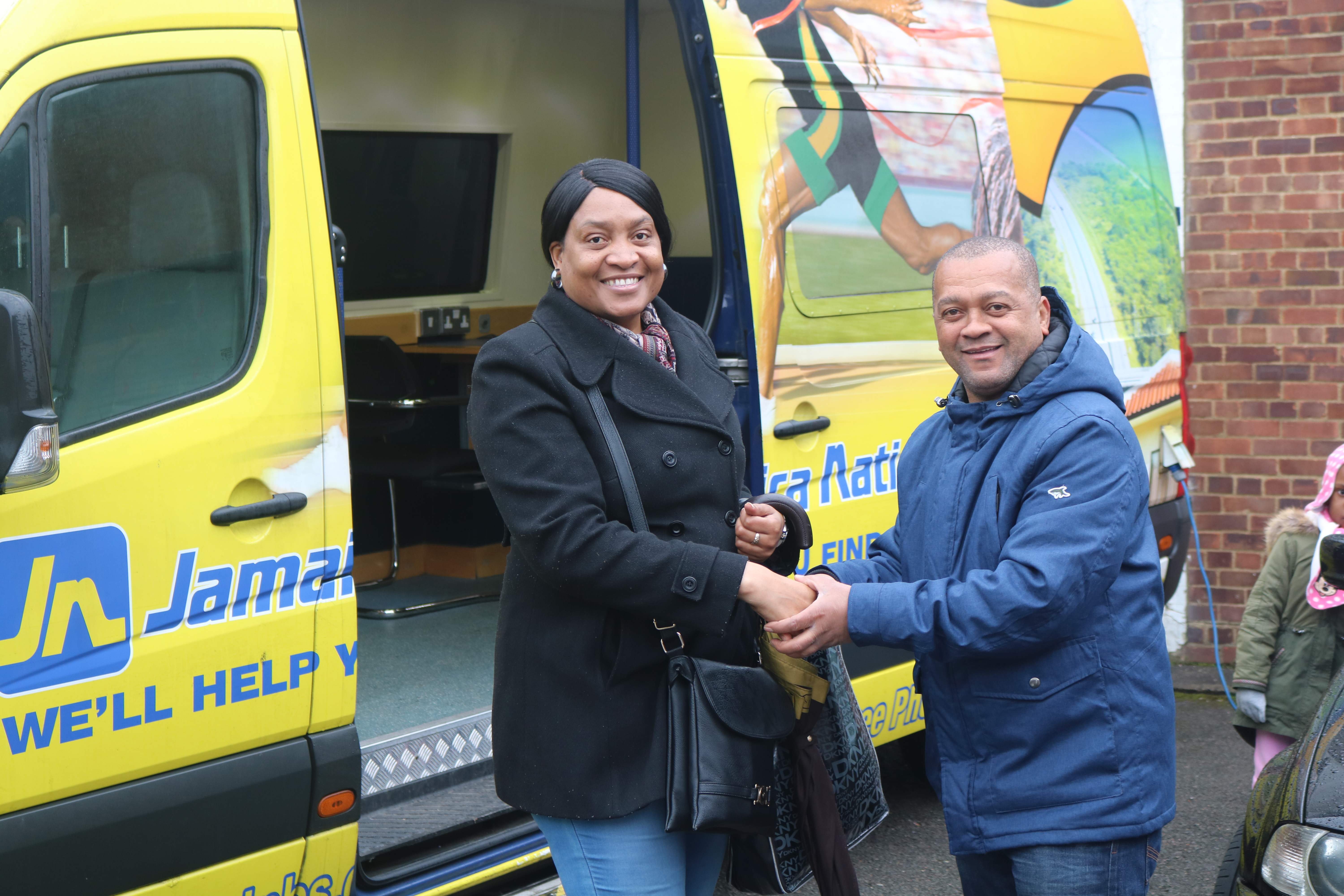 Michael Anderson, driver of the JN UK Mobile Unit, is described as a "True JN Ambassador," who epitomizes loyalty and team spirit.
"Michael is a dedicated, resourceful and humorous member of our team," said Paulette Simpson, Executive, Corporate Affairs &Public Policy, JN UK Representative Office. "He is known, loved, and has become "the face of JN," in many communities across the UK, having driven thousands of miles, taking JN and Jamaica to groups and individual persons, who find it challenging to visit our offices in London or Birmingham."
Mr. Anderson, who hails from Frankfield, Clarendon, migrated to the United Kingdom in the 1980s; and has been driving the JN UK Mobile Unit for 12 years. He was, however,quick to point out that he was a JN member years prior to being formally employed.
"I have been with JN before I started driving for the company, and it makes me very happy as I enjoy doing what I do for Jamaica National," he pointed out, adding that, "seeing the satisfaction on the faces of our customers who benefit from the services of the Mobile Unit, makes me happy."
Mr. Anderson's job entails driving up to 15 hours a day, sometimes through harsh weather, to provide services, including: opening new accounts, updating records, sending pension transfers to Jamaica; and activating accounts in cities,such as Bristol, Oxford, Gloucester, Manchester, Nuttingham, Wolverhampton, Belfast and Sheffield.
The father of five and grandfather said that, he has been driving since he was 15 years old and living in Jamaica, where he received his driver's license at age 18.
Declaring that safety is one of his main prioritieson the job, he said,"it can sometimes be dangerous on the roads, however, with my more than 30 years of experience, I am very careful and cautious, because I want to reach my destination safely."
Ms. Simpson confirmed his claim. "Michael treats the Mobile Unit with pride, and we are reassured that the unit is safe in his hands," she related.
"One of our fondest memories of Michael's service delivery was…when he learned that a couple, who were part of the JN family, were both sick and unable to visit the unit when it arrived in their community. Michael and the Member Service Representative decided to take our service directly to their door and was invited to have tea and take photographs with them. He is a true JN Ambassador," she declared.
When not working, Mr. Anderson enjoys preparing home-cooked Jamaican meals for his friends and family. His culinary services are also in high demand, as he is often tapped to cater for barbecue parties in his community.