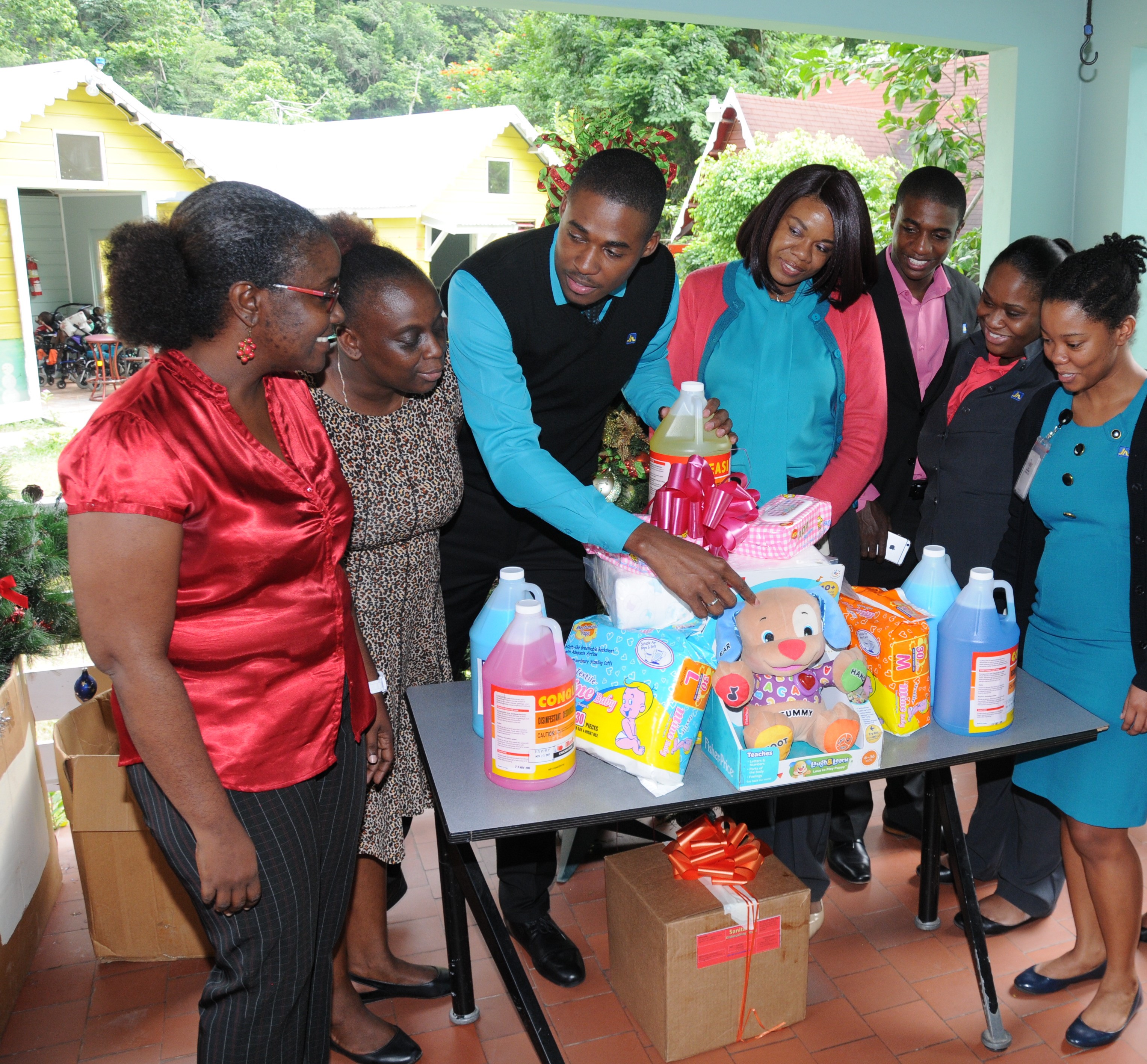 Opal Bailey (left), Childcare Manager of Sophie's Place and Christine Watson (second left), Matron, Sophie's Place; are delighted to receive donation of supplies from  employees of The Jamaica National Group, who have for the past 10 years  have been helping to sponsor the cost of medication for the children of the home every month.
Nestled in Gordon Town, St Andrew, alongside the picturesque backdrop of the Blue Mountains, is Sophie's Place, a home to 22 children.  The tranquillity of their scenic environment is amplified by the mesmeric sound of the nearby meandering Hope River, especially when there is a downpour.
Since 1998, the home has been operated by Mustard Seed Communities, a non-profit organisation, which provides care to mostly abandoned children who are also mentally and physically challenged.
"Most of our children have severe disabilities, which include Cerebral Palsy, Down's Syndrome and Muscular Dystrophy," explained Opal Bailey, a childcare manager at Sophie's Place, for the past five years. "Despite our limited resources, we provide a nurturing environment to make our children feel loved and to enable them to achieve their full potential."
Mrs Baily noted that the home's operating expenses are very high and that they are often dependent on the generosity of benefactors to help keep Sophie's Place operating optimally.
"We do receive occasional donations from individual persons and organisations, along with some support from the government; however, there is still so much more we could do, if we had the resources," she explained.
"Our greatest expense is food and medicine.  As a result of their special needs, many of our children have specific diets, which we cater to; and they all require medication, daily.  The average prescription cost, for each child is approximately $25,000; and none of our youngsters are covered by health insurance.  However, we are now at an advance stage in obtaining the birth certificates for each child, so that they can be enrolled with the National Health Fund (NHF), which will assist to reduce the cost for their prescriptions," she disclosed.
Among the residents of the home are Simeon and Charles (not their real names), who have never been able to walk, or talk, due to extreme cerebral palsy.
The youngsters, aged 13 and 19, respectively, have been Wards of the State for almost all their lives and, have won the affection of several employees in three departments at The Jamaica National Group, who for the past 10 years, have been helping to sponsor their medication costs each month.
Fabian Phillips, an employee at JN Bank, who spearheads a monthly sponsorship support on behalf of his department, points out that he and his team members pool funds to help to offset the monthly cost of medication for one of the children.
"It's a great feeling knowing that we are helping to help improve the situation at Sophie's Place. As a team, we are willing to make the personal sacrifice, every month, because it is a reminder to us that there are persons who are not as privileged as we were; therefore, it helps us to have a greater appreciation for life," he maintains.
Mrs Bailey pointed out that the sponsorship funds are welcomed, as they go a far way to help reduce the home's prescription debt.
"Currently, we have an outstanding debt of $350,000.  If we could get employees at other companies to come on board, they would enable us to significantly reduce our expenses," she stated.
To sponsor a child at Sophie's Place, please contact Opal Bailey, Childcare Manager at: 876-702-1418 or 876-870-5996.