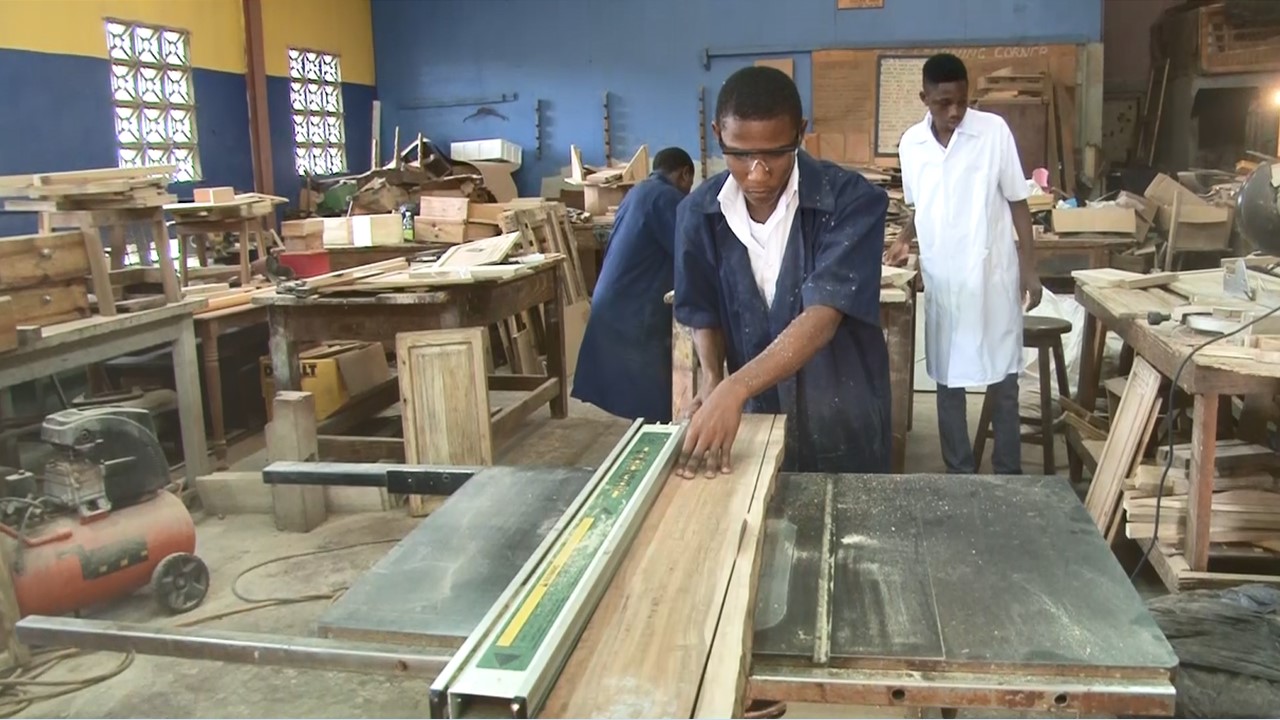 A student does wood work at the St. Margaret's Human Resource Centre.
The St. Patrick's Foundation recently launched an online campaign to raise funds to support the skills training initiatives of the Foundation. The Campaign titled,"It Takes 75 to Keep Hope Alive",  is being powered by the ISupportJamaica.com website of The Jamaica National Group.
"It Takes 75 to Keep Hope Alive is targeted to garner some US$7,500, to ensure that our students can continue participating in the one-year training programmes being conducted at the Christ the Redeemer and St. Margaret's Human Resource Centres," explained Sandrina Davis, general manager of the St. Patrick's Foundation.
"These one-year programmes are designed to teach participants skills they need to work in a company, or operate a small business themselves," Miss Davis explained.
She informed that during the past two years, the attrition rate inthe programmes climbed to some 10 per cent, as students were unable to pay for transportation, find lunch money, or purchase uniforms and books to attend the classes.
"Although we have kept the tuition fees very low, we need support to ensure that when students start the learning process, they can continue to the end," she said, noting that, "this was their chance to show their families and friends that they have what it takes to contribute to Jamaica being the place of choice to live, work, raise families and do business."
The skills training institutions, Christ the Redeemer and St. Margaret's Human Resource Centres, were established in the early 1990s.There is also an HEART/NTA registered vocational training school located in Seaview Gardens offering commercial food preparation, cosmetology and customer engagement operations training.
St. Margaret's Human Resource Centre caters to young persons in Olympic Gardens and Waterhouse communities. The centre provides remedial training and offers Heart Trust NTA Level 2 certification courses in woodwork and electrical installation.
Students in the remedial programmes are prepared for the Grade Nine Achievement Test (GNAT) with hopes to be re-integrated into the regular school system.
It Takes 75 to Keep Hope Alive seeks to impact the lives of at-risk youth within these communities and offers opportunities for future employment, entrepreneurship and personal development, Ms. Davis said.
Phillip Lindsey, ISupportJamaica operations officer, at The Jamaica National Group,said persons can support the campaign by visiting the ISupportJamaica website.
"The website is a simple, creative,secure avenue for Jamaicans, locally and overseas, along with friends of Jamaica, to provide financial support to micro-enterprises, and not-for-profit entities, such as the St. Patrick's Foundation," Mr. Lindsey informed.
Persons can donate to the campaign by visiting the ISupport Jamaica platform at www.isupportjamaica.com, click on the St. Patrick's Foundation project; and then click the "Fund Project" button, the operations officer explained.
Donation can also be made via Paypal; JN Live E-banking; by visiting any JN Branch or Moneyshops and interbank transfers.