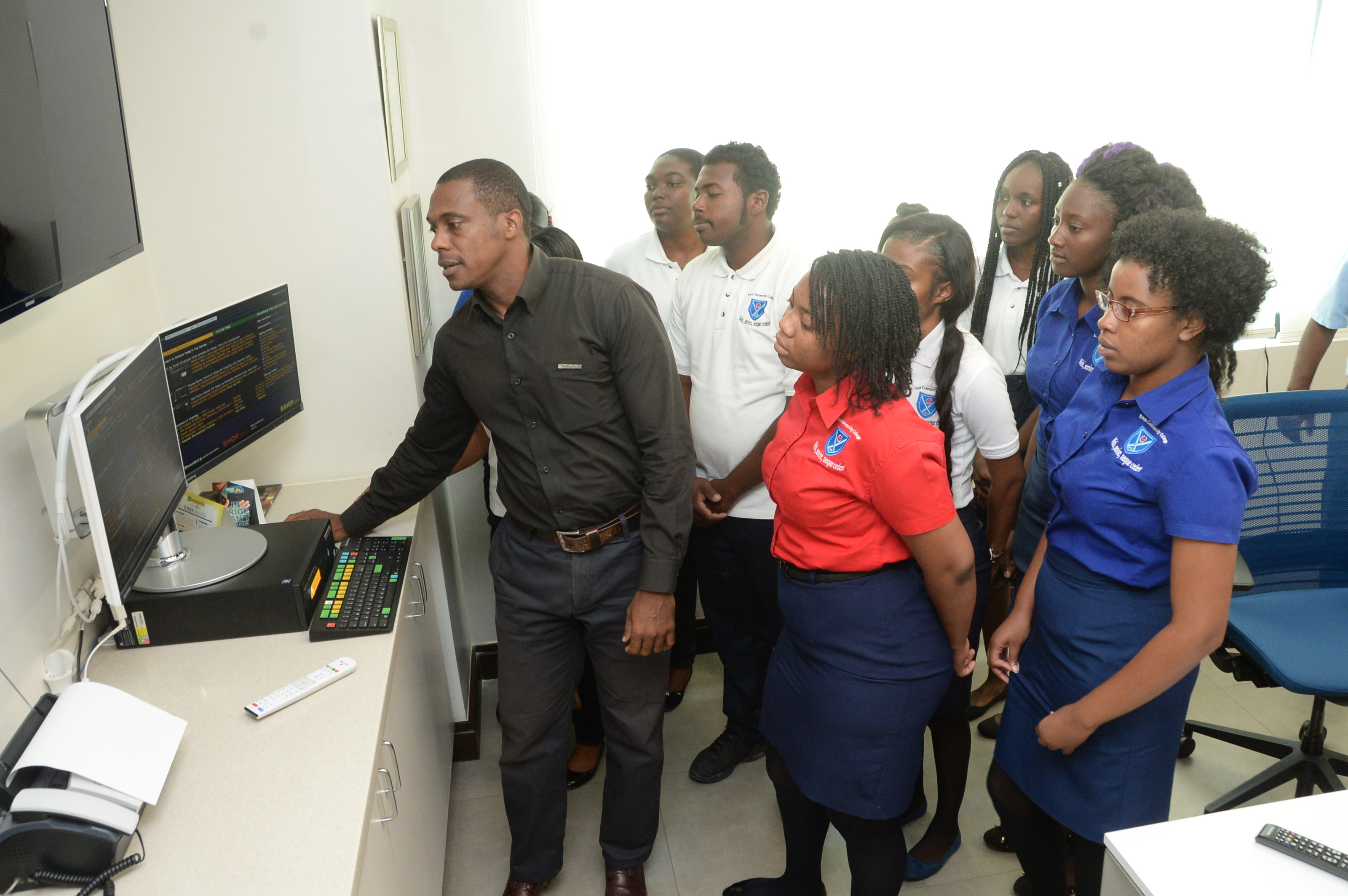 Students from Knox Community College in Clarendon, who visited JN Fund Managers  recently, were the first group to participate in a 2019 institutional outreach programme by the Jamaica Stock Exchange (JSE).
Michael Johnson, senior marketing officer, JSE, said that in celebration of its 50th anniversary this year, the JSE has invited participation from 50 educational institutions on a series of tours. The one-day tours include: visits to members of the broker community, the JSE itself, and listed companies.
"We want to bring investing opportunities to the grassroots," Mr Johnson stated. "Many current participants in the stock market were exposed to it at a later stage of their lives. However, we plan to make 'market knowledge' available to more Jamaicans at an earlier age."
Located in downtown Kingston, the world's best performing stock market for 2018, the JSE, was opened in 1969.
"Our managing director, Mrs Marlene Street, aims to provide more students with information about the stock exchange and the companies listed on it," Mr Johnson explained. "The student outreach programme is in two phases this year; and, we leave it open for institutions to request participation in the programme."
Jermaine Deans, deputy general manager of the New Kingston-based JN Fund Managers, pointed out that, "Investing is not a subject which is covered sufficiently in the school curriculum; and, to the extent that we can play a role in alleviating that shortfall, JN Fund Managers stands ready to play its part in expanding knowledge of these opportunities."
The students visited the JN Fund Managers' trading floor and learned how transactions take place through the JSE online trading system. Afterwards, there was a boardroom discussion about investing and how to pursue a career in the financial services sector.
"The main driver of a company's stock price is its earnings," Mr Deans told the students. He added that, "Investing decisions in the market are based on research, analysing the underlying company and trends in the sector, the stock itself and the economic environment."
The Knox group were second, third and fourth year marketing and business administration students. They had previously visited the JSE to observe its operations, and they subsequently went to Caribbean Flavours & Fragrances, which is listed on the JSE Junior Market.
Nikki-Ann Wilson, 21, who is pursuing a Bachelor of Science degree in Marketing, explained that she participated in the JSE tour, after she learned about the opportunities offered by the stock market.
"In our marketing programme we were being taught about stocks, and I wanted to further my knowledge," Miss Wilson said. "And, I learned that selling or buying decisions are based on having good information."
"During the visits we learned a great deal; and I am definitely thinking about applying that information to my investment plans," Ms Wilson declared.
In addition to the institutional tours, the JSE will also host a Customer Appreciation Day, participate in a special church service, and publish a 50th Anniversary Limited Edition yearbook, in celebration of its five decades of progressive operation.