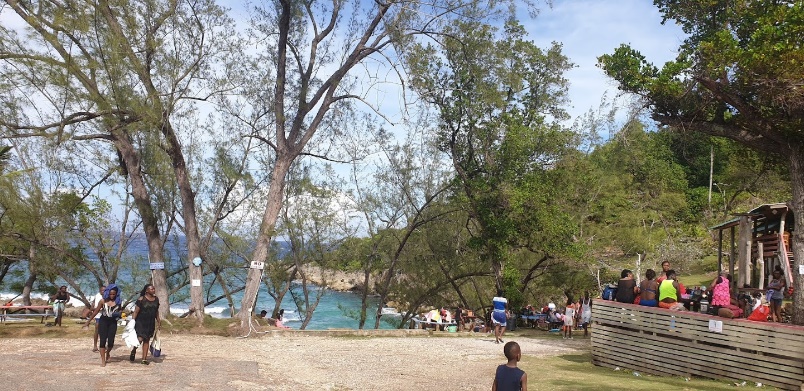 Tucked away in the north eastern rural town of Robin's Bay, St. Mary, is the beautiful and serene Strawberry Fields Together Beach and eco-resort.
The facility was named after the popular Beatles song, "Strawberry Fields Forever."  Characterised by towering willow trees and cool breeze, with the azure waters of the Caribbean Sea lapping against huge sedimentary rocks, this little piece of heaven in Jamaica is tranquility personified.
Founded in the 1970's by owner, Kim Chase, the 18-acre venue has two private beach coves, two three-bedroom semi-rustic villas and six beachside cottages. The elements make it perfect for camping; group, family or couple's getaway. Simply put, it is the perfect place to relax, unwind and bask in the glory of this quiet, un-spoilt environment.
Open from 10:00 am to 5:00 pm for daily use, the entrance fee to the property is J$1,000 for adults and J$500 for children aged 6-12, if you are bringing your own food; and J$600 and J$300 respectively, if you are not.
Unique adventures and activities
Unique adventures and activities are available. One such adventure is a guided nature hiking trail to Kwame Falls, 1½ hours each way, which can include a delicious roast fish and yam lunch, done over wood fire at the falls. The adventurous could also opt to take a boat ride to Black Sand Beach and hike to the falls, ½ hour each way, instead of hiking the entire journey.
Sporting activities, such as volleyball and table tennis, are also available. The venue can accommodate very large groups and meals are provided on request. There is a restaurant on site, the Strawberry Patch Café, which provides scrumptious meals for visitors, daily.
On Sundays, the chef at the venue prepares pizza in the wood-burning pizza oven, while patrons are entertained with "oldies" music, rocking them back to yesteryear. You could also bring your own food and rent the barbecue grill area to cook your own meal, on any given day.
The location also provides full wedding packages and special areas are designated to capture beautiful wedding photographs.
Strawberry Fields Together is one of St. Mary's jewels, and it is "a must visit," for locals and visitors alike.
Sabriena Simpson is a food, travel and lifestyle blogger. Follow her @travelwithsabriena and @eatroundicut on Facebook and Instagram. You can also read her restaurant reviews at www.eatroundicut.wordpress.com  and her travel and lifestyle blog at www.sabrienaaudriana.wordpress.com .