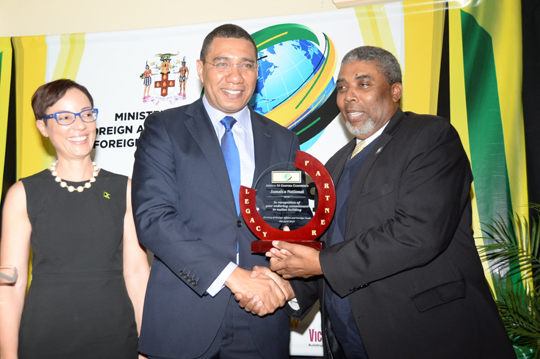 The Jamaica 55 Diaspora Conference 2017 has received the full support of legacy partner, The Jamaica National Group, as the organisation renews its ties with the seventh biennial of the event, to be held in Kingston, Jamaica, July 23-26, 2017.
Earl Jarrett, Chief Executive Officer of The Jamaica National Group, said that the organisation has already "committed financial and other support to the staging of the conference this year."
"Member companies of the Group are eager to introduce their products and services to Jamaicans from overseas, who we expect will be attending this year's event in large numbers in Kingston," he noted.
The 2017 conference, which is being organized as a pre-cursor event to Jamaica's 55th anniversary Independence celebrations, will be mounted under the theme, "Partnering for Growth."
"We anticipate that the conference will serve to highlight the rich and vibrant linkages that are possible when stakeholders, both locally and within the Diaspora, work together to build communities and change lives," Mr Jarrett said.
Mr Jarrett, who also serves as the chair of the conference preparatory committee, pointed out that "a strong project team has been put in place and to date all sub-committees have been identified, have prepared work plans and are well on the way to delivering a magnificent conference."
"I extend a warm invitation to all Jamaicans to participate in the conference and look forward to seeing you in Kingston on July 23."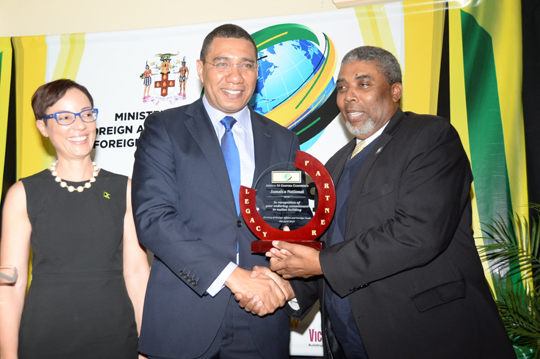 PHOTO CAPTION: Prime Minister Andrew Holness (centre) presents Leon Mitchell, Chief Marketing & Sales Officer at The Jamaica National Group, with the legacy partner plaque for The JN Group's support to the Jamaica Diaspora Conference. Sharing in the moment is Senator Kamina Johnson Smith, Minister of Foreign Affairs & Foreign Trade, at the official launch of the Jamaica 55 Diaspora Conference, held at the Office of the Prime Minister in St. Andrew on April 4.