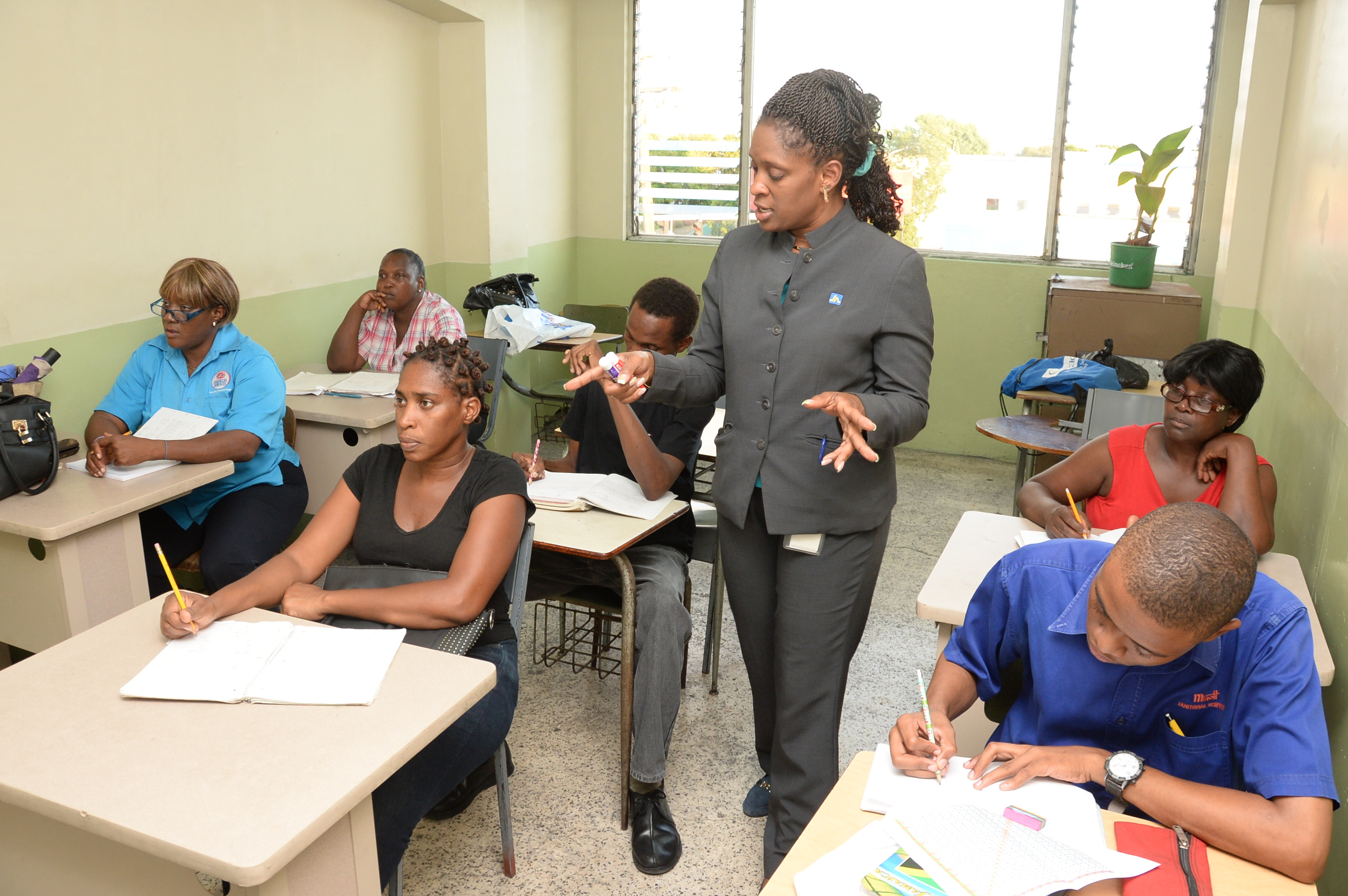 It's Wednesday afternoon and Atiya Stewart has just completed her work for the day as a Fraud Investigator in the Corporate Integrity Unit.   However, she is not heading home as yet because more than 10 persons are waiting on her at the Adult Education Centre located at the Bethel Baptist Church – a 'stone throw' from the JN Chief Office.
Since September 2015, Atiya has been volunteering to teach remedial Maths to older persons every Wednesday and Thursday from 5:30 to 8:00 pm.
"I always believe in giving back to society and this is one way that I have chosen to do so," Atiya declared.   "The experience has been truly rewarding because I get a sense of satisfaction knowing that I'm helping to positively impact someone's life.  The most fulfilling part for me is seeing their excitement when they grasp a concept and when they do well in their tests."
When her mother, Lorraine Stewart, a member of the congregation, told her that the church was seeking volunteer teachers, Atiya never had second thoughts about responding.
"I have been told many times that I would do well at teaching because of my ability to explain complex things. I opted to teach Maths because it applies to everyday life and I wanted persons to appreciate the subject more and feel less apprehensive about it," she said.
"They are taught level five Maths, which is equivalent to GSAT Maths.  Therefore, the syllabus covers place value, fractions, long division and multiplication, percentages, decimals and measurement.  In addition, they learn how to calculate discounts and GCT," Atiya disclosed.
Venecia Piper, a housekeeper from Portmore, said that she understands and loves Maths as a result of her contact with Atiya.
"I have always loved Maths but Miss Stewart makes me love it more because she shows us different ways how to work out a problem and we choose the method that is easiest for us," Ms. Piper explained.  "She is nice and patient with us, and she always ensures that we understand what she is teaching.  Many times she will stay back after class just to make sure that we learn how to do a problem.  Also, she is very approachable as I am able to talk to her about anything, even about my personal problems."
Similar sentiments were expressed by Yvonne Murray-Nugent, a grandmother from Spanish Town.
"She is a very good teacher who goes the extra mile to ensure that everyone understands a topic. If we are not clear on something, we can ask her to explain it again.  I never like Maths before but now I love it because of how she teaches it," she said.
Pauline Gregory-Lewis, Principal/Coordinator of the Adult Learning Centre, is pleased to have Atiya on board.
"Atiya is a very dedicated and committed teacher.  She buys the textbooks that the staff uses so that she can put in the time to prepare for her students. She is very pleasant and fits in quite well with both teaching staff and administrative staff.  Also, she makes every effort to attend staff meetings and staff development sessions ," Mrs. Gregory-Lewis revealed.
Mrs. Gregory-Lewis pointed out that the adult learning programme is a mission focus of the church and has been in existence since 1962.
"At the moment, we have approximately 250 students on roll and more than 40 teachers who volunteer one or two evenings per week. In addition to Maths and English, we teach them life skills and social studies," she further disclosed.
When Atiya is not in the classroom, the JN employee of 16 years can be found doing contemporary dancing at home, spending time with her family, particularly her mother and sons, Ajani and Khari, and travelling locally and overseas.