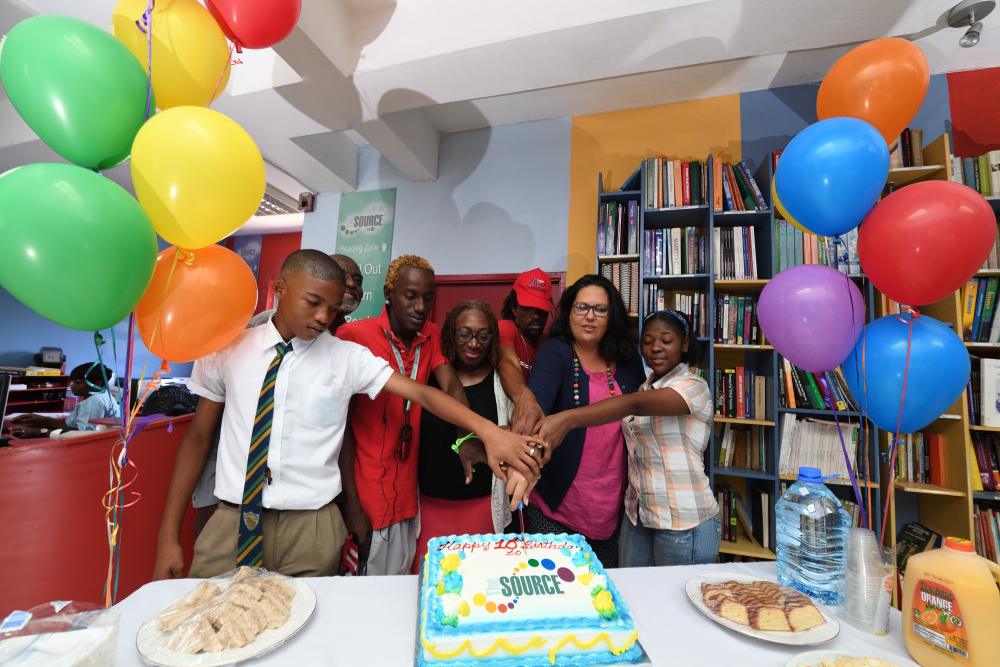 Community members and Saffrey Brown, general Manager of JN Foundation celebrate the  10th anniversary of the Kairos Network Source
Eighteen year-old college student, Toni-Kay Foster, is happy to have access to a cyber cafe with printing facilities only a stone's throw away from her home.
"I don't own a computer or have access to the internet at home; therefore, it benefits me to be able to go to the Source Centre, in easy walking distance, because I always have school assignments to complete and print," she explained.
She was commending the availability of the Kairos Network Source in August Town, a social enterprise franchise, established a decade ago to address basic social needs in her community, for internet access, a home work centre and meeting space; as well as, special projects for young people and adults.
Miss Foster added, "It is central, convenient and benefits the community as anyone can come here and use it; and it is accessible with affordable services."
Established by the JN Foundation, the social arm of The Jamaica National Group, in 2007, The Source August Town was designed to connect community members to innovative services and to resolve social challenges.
Saffrey Brown, general manager of JN Foundation said, "We are proud that after 10 years, The Source is still operative and the community continues to benefit from its expanding services."
"This is evidence that community transformation takes time and proper management. You need to implement sustainable programmes and facilities, such as The Source," she noted, pointing out that there five other Centres, located in Maverley, St. Andrew; The Source Ocho Rios, St. Ann; The Breds Source, Treasure Beach, St. Elizabeth; and Savanna-la-Mar Source, in Westmoreland.
The Source August Town was subsequently named "The UWI Source," in August 2011, and operated in concert with The UWI Township Project. Later in 2015, it was handed over to the community and is now being managed by the faith-based organisation, the Church Kairos Network.
George Scott, current manager of the Source Centre, said that it offers critical services, such as: an Internet Café and photocopying services; after school home work centre; JUTC Top-up; the sale of telephone cards; assistance with letter writing for businesses; research services and meeting space for rental.
"The Source pulls in approximately 150 persons per week and, many persons use its JUTC Top –Up service on a daily basis" he pointed out.
Helen Ann Brown, Senior Pastor of the Kairos Group of Churches, who manages the Centre, said that The Source is an indispensable part of August Town.
"It is part of the social economic fabric of our community; people expect it to be here. Therefore, if the Centre closed today, residents would feel the impact; as it is now a permanent part of August Town," she stated, noting that it is a proud element of the community.
Brown pointed out that while The Source was an income-generating enterprise, it also has a social role to play, which it has been doing through its home work assistance, reading competitions and mentorship programmes.
"To maximize its use you need to bring the mindset of the community to another level as well," she pointed out. "We, therefore, have a mentorship programme in which boys between age 10-14 years, are taught the principles of the Bible. And, there are sports activities, such as football."
"The male role model in our society today needs attention, therefore, this programme comes at an opportune time. It is positive and has been doing extremely well," said Pastor Brown, who indicated that similar programmes were set up throughout the community.
Future Expansion Plans
Pastor Brown noted that the management team has plans to build on the social enterprise of the Source; and upgrade the conference room to a state-of-the-art facility, so that additional training programmes can be offered to community members.
She pointed out that The Universal Service Fund has come on board. "They will be assisting us to upgrade our computers and provide solar energy for the centre. "Within a few months, we will have an upgraded computerised system and to solarize them because solarisation will allow us to be more sustainable," she explained.
There also plans to offer other services to the community, such as: bill payment, financial, business address; and digital services to design and print magazines and business cards.
"We believe if we can become competitive, we can attract businesses from outside," said Scott.
Both Scott and Brown hope to take the Source August Town to another level of operation, so that it becomes a catalyst for other communities.
In commending The Jamaica National Group for initiating the Source, Pastor Brown said, "JN initiated an oasis, and gave us a spring board to move forward. If they had not taken the initiative to set it up, it would be difficult to initiate it; therefore, we are striving to continue it," she said, urging members of the business community to implement similar initiatives.