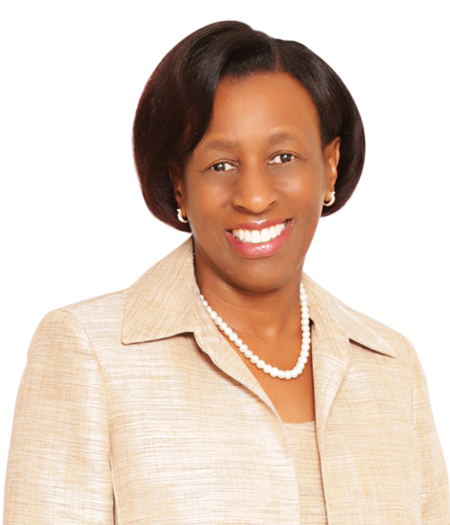 JN's Paulette Simpson ranked among Britain's Powerful Blacks
Flipping through the pages of the 2018 Powerlist of Britain's most influential people of African and African Caribbean heritage, one will indeed find a list of powerful and famous black Britons: from Hollywood big wigs, such as Oscar-winning film maker, Steven Rodney "Steve" McQueen of 12 Years a Slave, to John Boyega of the latest films in the Star Wars franchise, and the acclaimed comedian Sir Lenny Henry, who is of Jamaican parentage.
However, when you get to page 55 of the more than 100-page magazine, you'll find the photograph of a Jamaican woman, who is beaming gracefully, in a stand-alone photo spread across the page. Although she may not be well-known in Jamaica, she is known, simply by her first name "Paulette", in many African and Caribbean communities throughout England; as well as, among Britain's top ranking.
Who is she? She is Paulette Simpson, Executive, Corporate Affairs and Public Policy at JN's Representative Office in the United Kingdom; and executive director of The Voice, Britain's top black newspaper that has served the black community in the UK for 35 years.
Tasked with the responsibility of shaping and influencing JN's presence, and preserving and maintaining its reputation in the Jamaican UK Diaspora, the Manchester High School graduate doesn't make light of her role in JN's vast operations in that country.
"My job is about building relationships," Paulette frankly says. "Relationships are critical to everything that we do. It's not about doing something for someone, so that they can do something for you in return," she continues, "It's so that people can receive value and appreciate what you do. Networking is about knowing people and creating opportunities for people; because, in the final analysis, people do business with people who they know and appreciate."
It is that kind of thinking which makes Paulette so influential her colleagues surmise, noting that her influence reaches beyond the Caribbean community, to sectors which touch the length and breadth of the Jamaican Diaspora in the UK.
Marie Stewart Lewin, Senior Manager, at The Jamaica National Group, who has worked with Paulette on numerous projects during her 15-year career at JN, describes Paulette's talent and adeptness at planning major events as simply, "phenomenal." These initiatives include, JN Outlook for the Future, Caribbean Question Time and Meet Jamaica 2012, conceptualised by JN Group CEO, Earl Jarrett, to position Brand Jamaica at the 2012 London Olympics.
"I don't know how she does it, but whoever you want, Paulette can find that person," Mrs Stewart Lewin relates, calling the names of well-placed and respected politicians, barristers, diplomats, church leaders and members of various other social bodies, who Paulette has been known to effervescently immerse in an understanding of Jamaica and the JN brand, and win their support for Jamaican and JN initiatives in the UK.
That includes the Birmingham City Council and leader of the Council at the time, Lord Mike Whitby, whom she got involved in Meet Jamaica 2012.
"She's very good with people and very solutions oriented. She doesn't see obstacles, she just thinks through the problem and how she can either make it work or find another way of doing it," Mrs Lewin Stewart says.
Asked, during her interview, whether there has ever been a project, event or initiative that has made her doubtful of its achievability and success, Paulette's immediate response is a long 15 seconds of silence.
"I'll have to think about that," she eventually responds in her crisscross Jamaican-British accent. "You have to think through challenges. You can think your way through things. It is not that people are brighter than you are, it's about how you apply yourself," she continues, still trying to pinpoint one initiative or event that has made her doubtful or fearful about success.
Paulette was raised in the cool climes of a hamlet named Walderston in Manchester, Jamaica, located between Williamsfield and Christiana. She attended primary school in both Mizpah and Christiana, and then moved on to the well-known Manchester High School, following her success in what was then the Common Entrance exams. However, she returned to the United Kingdom for her tertiary studies, at the University of Scotland, where she read for a degree in Marketing and Finance and later jetted off to the United States to attend the Washington State University. She, however, went back to England and attained her Master of Business and Administration at the University of Westminster in London.
After a few years with PriceWaterhouse in various roles, including being seconded to the Commonwealth Secretariat for two years, Paulette was recruited by the National Commercial Bank (NCB) to establish and manage its London office. When the ownership of NCB changed in 2002, she was immediately snatched by what was then the Jamaica National Building Society (JNBS).
Although born in England, Paulette's grandmother, Violet Simpson, nee Ashley, thought it best for her granddaughter to be raised in Jamaica, so that she could cultivate the values and culture of the island, and so, she returned to Jamaica with her.
"My grandmother was a major influence during my early years and she remains my moral compass. Whenever I face a moral dilemma, I look at a picture of her in my office, and ask myself: What would she do or say?"
The Rev Rose Hudson-Wilkin has been another major source of influence for Paulette. A Jamaican who grew up in Montego Bay, St James, Rev Hudson Wilkin, today, serves as Chaplain to Her Majesty the Queen, and Chaplain to the Speaker of the House of Commons, the first black woman to hold those titles.
"I look to her for strength," Paulette muses. "Her story as a 'barefoot girl' in Montego Bay, who grew up to become Chaplain to the Queen, motivates me."
Similarly, Rev Hudson Wilkin also takes some of her inspiration from her friend of some 20 years.
"She is a personable young woman with a real vision for the work that she does, executing it without fanfare, but with great determination to meet the needs of the community which she serves," Rev Hudson Wilkin remarks.
The outspoken church leader, who is said to be tipped to be among the first cohort of female bishops in the Church of England, is herself also listed on Lloyds' Bank's Powerlist.
"She (Paulette) is well-known in the Diaspora, and I love the fact that here we have someone who is not just doing a job, but someone who genuinely cares about the work she does," Rev Hudson Wilkin says.
"Paulette is influential because she carries a deep interest for the Diasporas here in Britain and is always willing to spend time with that community, learning about their needs and seeing how best her organisation can respond to those needs," she says.  "She is unassuming and warm in her approach and is clearly respected by the community. I really think of her as a great Ambassador for both Jamaica National and Jamaica. I am proud to be associated with her and to call her a friend."
For professional leadership, Paulette acknowledges that her inspiration comes from her own CEO, Earl Jarrett, whom she describes as one of her mentors.
"He has guided my career by giving me opportunities which no one else did, and that's coming from a context in which you were often underrated," Paulette explains. "In the end when it's over he would simply say: 'well done.' He doesn't define you by your mistakes, he just simply asks what can we do differently next time?' and moves on to the next project. That instils confidence and keeps your self-esteem intact."
And that selfless style of coaching and mentorship has been a boon to Paulette's success.
"I don't have to pretend to be me in this job, I am allowed to be me and I enjoy that," she says.
Her "hands on" leadership style is admired by her colleagues, who describe her as demanding, yet motivating.
"Yes, she can be demanding, and will put you under pressure; however, she is also very encouraging," says Mrs Stewart Lewin.
Leon Hamilton, Chief Representative Officer, JN UK, admires Paulette's seemingly effortless style of getting things done, and particularly appreciates her ability to organise major annual meetings, such as the annual, JN Members Meetings.
"Paulette is simply masterful at creating linkages and works tirelessly in service of both Jamaica National and Jamaica. Many don't realise is that she was also an integral part of the organisation of the Jamaican Diaspora in the UK, as we now know it, and even chaired the Advisory Board at one point," Mr Hamilton relates.
"When I arrived in London in 2010, she had already done so much as the Chief Representative Officer that when I took over there, was already a foundation and a high standard that I only needed to maintain," he says.