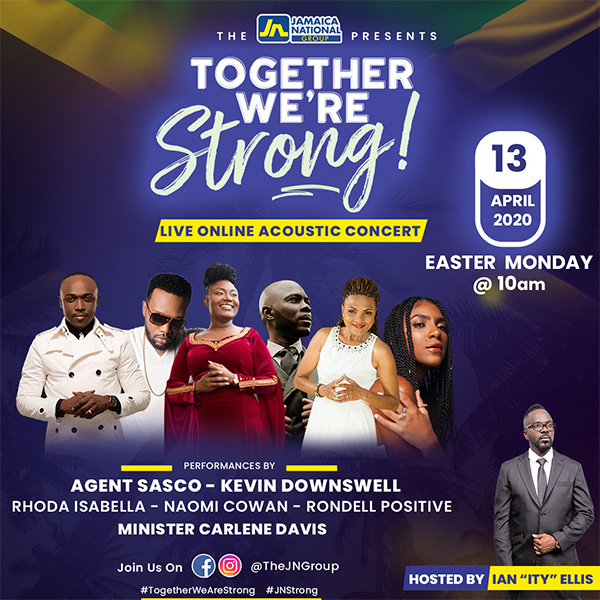 Artistes call Jamaicans to unite against COVID-19
Two of the country's most popular and positive gospel and dancehall entertainers, Kevin Downswell and Agent Sasco, have called for unity among Jamaicans to fight the spread of the coronavirus disease 2019 (COVID-19).
The two, who are JN Brand Ambassadors, and  headline acts for the JN Group Together We're Strong virtual concert on Easter Monday, April 13, note that the disease, which has now infected in excess of 1.4 million people worldwide and killed close to 90,000, is no respecter of status, ethnicity or faith.
"We are all facing a common enemy, and the quicker we look pass our differences, and work together, is the quicker we see results," Mr Downswell said.
He said Jamaicans need to harness their collective power to fight the disease.
"We now realise that we are more connected than we first thought, and if we all do our part, we will not just defeat this invisible giant, but we will come out better and stronger. We are stronger together," he underscored.
Agent Sasco underlined that even those who are selfish by nature can play a role.
"The fact that everyone is affected means, everyone needs to act. I think by now, it should be very clear that we are all impacted as an all-Island curfew is in effect. Even the most selfish among us can appreciate that and even then, the most 'selfish' thing one can do at this time is cooperate," he said.
Jamaica has 63 cases of COVID-19 and four deaths. Most of the infections, similar to world data, are among men and 57 per cent of the infections have occurred in people 50 to 80 years old who, along with people living with underlying medical conditions, are more susceptible to severe responses to the disease.
The JN Group Together We're Strong concert, which will be streamed from 10:00 a.m. to noon on Easter Monday, is targeted at lifting spirits and inspiring hope and unity in the fight against COVID-19, given the restrictions implemented by many governments to slow the spread of the highly infectious disease.
Agent Sasco and Kevin Downswell will be joined by gospel stars, Rondell Positive and Rhoda Isabella, as well as emerging reggae princess, Naomi Cowan, and her mother, internationally acclaimed artiste, Minister Carlene Davis.
Rondell Positive believes a concert such as the JN Group Together We're Strong initiative, is a powerful platform to unite Jamaicans.
"Music is very powerful and influential. From whatever perspective you look at it, people are influenced according to words that they play to do negative, but the flip is [also] true," he said.
"If we can get everybody to understand that the answer is really in the mirror, then we will all come together as one. We are the change that we want to see. We can cause a shift to take place in Jamaica during this COVID-19 experience- a shift that will cause the world to look to us to lead them."
Host of the concert, Ian "Ity" Ellis, called for Jamaicans to cooperate with government measures and orders by maintaining social distance and practising proper hygiene.
"How can we unite, when we are being told social distancing? Seems paradoxical, but it's actually true. If we follow the instructions and we obey what we are being told… then we can help to control and eliminate COVID-19, because it needs human to human transmission. Even though it seems paradoxical, it's really true, the more we are apart, the more we are together and the more we can really conquer this," he underscored.
He said the JN Group Together We're Strong concert will assist to provide a moment of joy, laughter and celebration through music during this stressful period.
Persons will be able to watch the live performances on the JN Group's Facebook and Instagram pages.
Fans will be able to interact with the stars as they perform live by posting their comments to the JN Group's social media pages. They are being encouraged to use the hashtags #togetherwearestrong #JNStrong #JNCares #WeWillHelpYouFindaWay #HealingandHope.