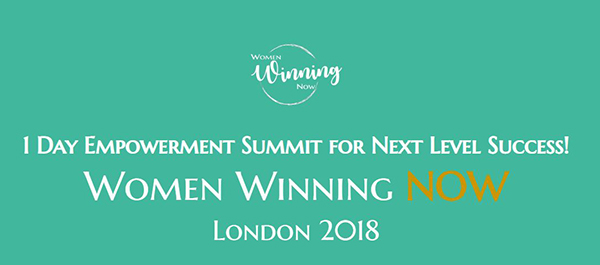 One-Day Workshop Empowering Women to Live Their Best Lives
(Kingston, Jamaica)  After being successful staged in Miami, Florida and Toronto, Canada, Women Winning Now, a powerful one-day summit, makes its way to London.  The summit, which targets women who are ready to win in all areas of their life, will be held on Saturday, November 10, 2018 at The Chesterfield Mayfair Hotel from 9:30 am – 3:30 pm.
Limited tickets are available on www.womenwinningnow.com.  Prices start at £80 and includes full workshop, healthy lunch, two coffee breaks, worksheets and vision-board session.  JN members who purchase tickets using the code, jamaicanational, will receive a special discounted rate.
Women Winning Now (WWN) features five talented and accomplished women will share their tried and proven tools for enhancing personal happiness, attaining better health, identifying and achieving one's vision and removing the obstacles to personal and professional success.
WWN was created by three Jamaican sister-friends (Rachel Christian, Health Coach, Rochelle Gapere, Attorney and Happiness Coach and Nicole McLaren Campbell, Author & Educator), entrepreneurs committed to helping each other, and now all women, get to next-level.
"Each of us has a deep passion for helping women in our individual spheres – health, happiness, and success – and decided to come together to create what is now a movement of women who support each other and are committed to getting to next level. Miami and Toronto were epic!! We can't wait for London!"
Patrons will not only leave with practical tools on how to up-level in their day-to-day life, they will walk away with an action plan and workbooks on how to move forward and implement this plan with specific goals in mind.
Topics and Speakers:
"Infuse Your Life with Happiness" with Rochelle Gapere, Attorney & Happiness Coach
"How to Create a Winning Personal Brand" with Naomi Garrick, Personal Brand Coach
"Create a Winning Global Blueprint for Your Brand" with Rica Kelly, Transformational Coach
"Nourish Yourself to WIN!" with Rachel Christian, Health Coach
"Dreams to Reality!" with Nicole McLaren Campbell, Author & Educator
Sponsors for WWN London include: JN Bank UK Representative Office, JN Money Services, Fontana Pharmacy, Kendel Foods and Heart Institute  of the Caribbean (HIC).
https://www.eventbrite.com/e/women-winning-now-london-tickets-49812226711