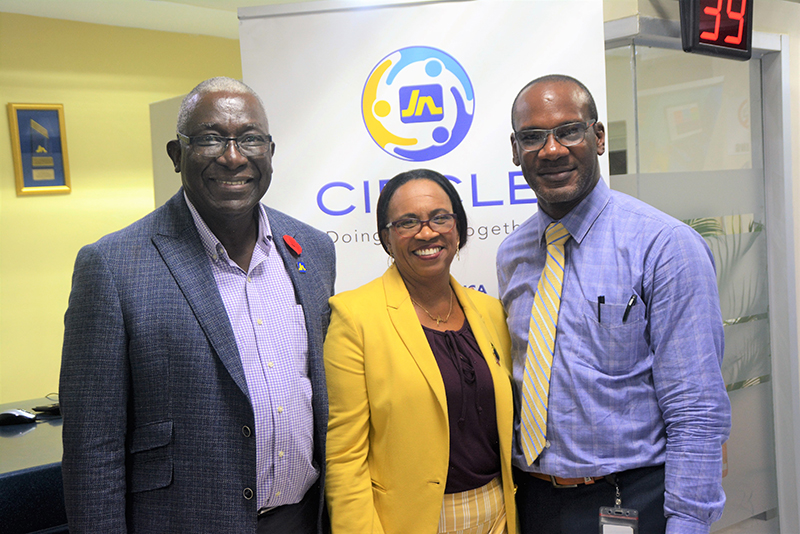 Media reports of intimate partner and other forms of domestic violence have escalated in recent months. In most of those reports the victims have largely been women, who lose their lives as a result, but, in some instances, also children.
Recognising the social problem, the JN Circle, a network of service clubs initiated by The Jamaica National Group, brought in marriage and family therapist, Reverend Dr Carla Dunbar to address the JN Circle Port Antonio Chapter, recently.
Edison Taylor, business relationship and sales manager at JN Bank Port Antonio, noted that her invitation was as a result concerns raised by several members of the newly established Port Antonio JN Circle about cases of domestic violence in the parish.
"Our JN Circle here in Port Antonio will help us as members to build a network of effective relationships from which we can draw to address issues that impact us as a community," he said.
Addressing the meeting, Dr Dunbar drew attention to three major issues that often lead to violence between partners.
Lack of Effective Communication
Dr Dunbar pointed out that effective communication between partners assists to stem domestic and intimate partner violence.
"We need to strive for effective communication, because everybody communicates," she pointed out. "Invariably, we rarely communicate our true feelings, therefore, that is one of the challenges many persons have."
One Partner's Need to be in Control
The Certified Professional Life Coach noted that most of conflicts arise from the fact that one partner wants to be in control and when that control is lost, there is often animosity, resentment and malice, which can then escalate into violence.
She asserts that effective communication and a person's freedom are two requirements for lasting relationships.
How Men and Women are Socialised
Dr Dunbar stated that, by nature, women tend to be more talkative, while men are socialised as introverts.
"Our men are socialised not to talk. When boys are growing up, if they talk too much, they are called a 'sissy'. Therefore, our boys grow into men, believing that 'less is more' and then they enter into relationships as the silent type. The irony is that a very talkative woman marries a man who does not have much to say and this can create a challenge," she pointed out.
Dr Dunbar stated that it is critical at the onset of a relationship, to recognise that your partner is different from you and, therefore, patience should be employed in the relationship. She also underscored the importance of counselling, before persons get involved in relationships.
The JN Circle, initiated in September 2019, is a platform for members and customers who share JN's values to take action that improves outcomes for themselves and for all Jamaicans wherever they reside. The JN Circle is led by the community for the community. To date, 11 JN Circle chapters have been established across the country.
Here is how to become a member of the JN Circle:
Get nominated
Complete a membership application form
Attend two JN Circle monthly meetings
Stay involved
For more information on the JN Circle, visit a JN Bank branch or call your Member Ombudsman at 876-926-1344; Ext. 3262 or email: myJNCircle@jngroup.com
Was this article helpful?