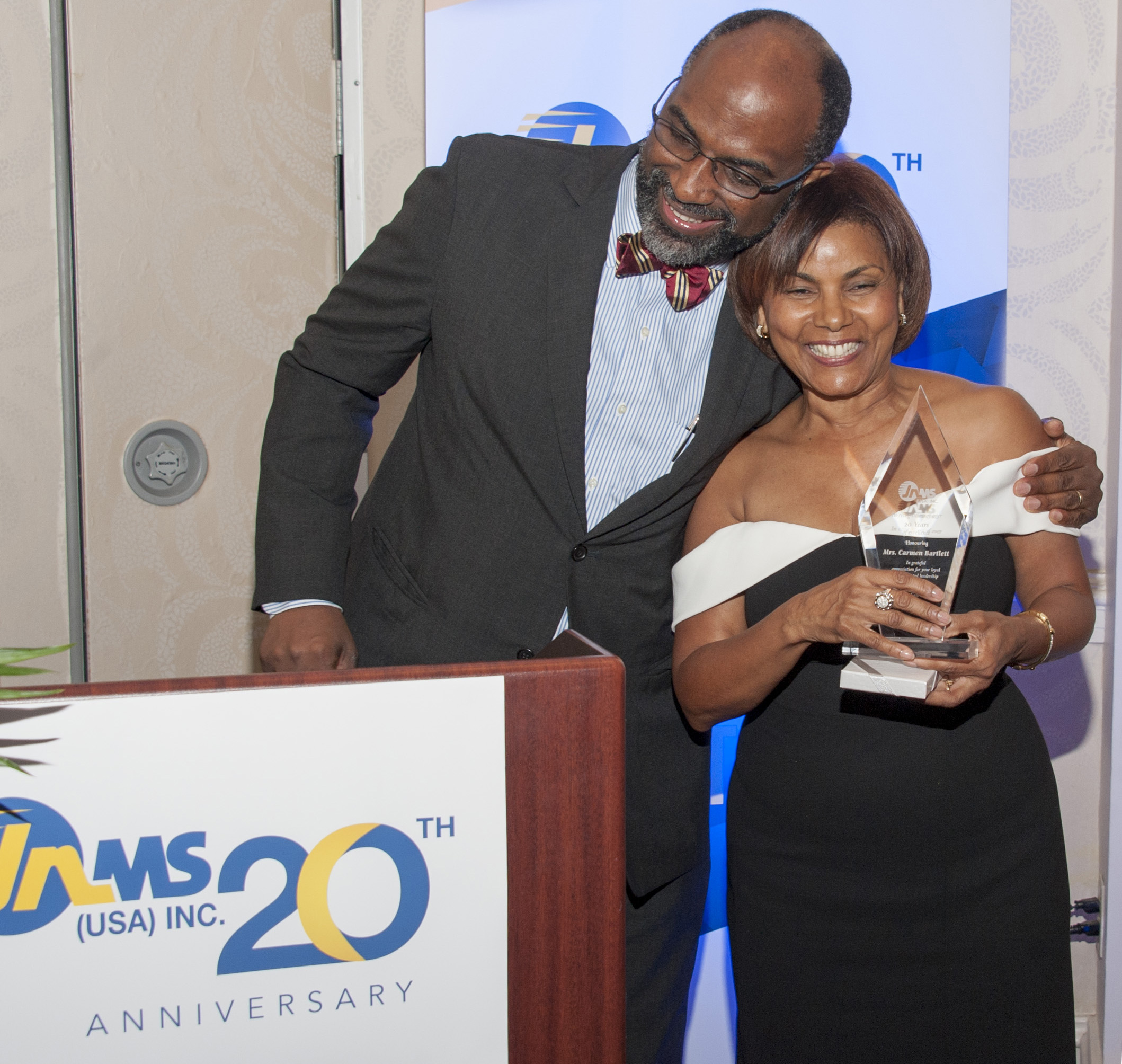 Earl Jarrett, Chief Executive Officer of The Jamaica National Group hugs Carmen Bartlett, South East Regional Manager, JNMS USA Inc. after she was awarded for her 20 years of service in the region on May 27 last year. The 20th Anniversary Celebratory Dinner was held at the Renaissance Plantation Hotel in Plantation, Florida.   
The first thing you notice about Carmen Bartlett is her smile. But, what the JN Money family will remember most about Mrs. Bartlett is her passion for making the lives of those around her better.
As she prepares to call time on her tenure with The Jamaica National Group after 45 years, Mrs. Bartlett, who is the Regional Manager of JN Money Services USA South East, notes that she feels a degree of satisfaction, in having been able her to help others, both in her daily work and in her charities.
"I am a people person," stated Mrs. Bartlett. "I enjoy interacting with people from all walks of life. It doesn't matter where they are from. As long as I can impact their lives in some way I am happy."
This trait of making others happy has endeared her to many and over the years this has impacted how she interacts with customers who visit the JN Money location in Lauderdale Lakes, Florida.
"Most of the customers are like family to us because we treat them as such. We refer to them on a first name basis with many coming here since we started 21 years ago," she explained.

In 1997,  when JNMS USA Southeast began operations, Mrs Bartlett, a mother of two,  went 'door-to-door' to businesses along the "441" corridor to promote the JN Money Transfer brand, now rebranded JN Money. Her passion for providing excellent customer service ensured that Jamaicans in Florida remained connected with loved ones at home.
"I remember sometimes our customers would call and say they were coming to the office after closing time because they needed to send funds. And, I would wait until they came because I was determined to keep them connected with home," she shared.
Although new to Lauderdale Lakes, she did not isolate herself from the community. Rather, she became a part of the city and its culture. Soon, JN Money sponsored community events, mounted Christmas treats and attended church services.
Based on those contacts, she was also instrumental in establishing three additional JN-owned JN Money locations; and a network some 30 agents; a feat which made JN Money Transfer one the most influential operators from the South Florida to Jamaican remittance corridor. She also played a major role in the opening of the JN Florida Overseas Representative Office.
"There were so many persons who played a role in helping us to be successful and also assisted in my personal development. And, many of the persons I worked made our team that much stronger," she said.
Maxine Hinds, Sales and Support Manager, JNMS USA Southeast said working with her former manager was a richly rewarding experience.
"She always makes you feel comfortable around her. In my 13 years of working with her, I would say it has been awesome and a pleasure because of her work ethic and how she interacts with everyone."
Prior to joining the JNMS family, Mrs. Bartlett who has been married for 44 years, worked with the Jamaica National Building Society (JNBS). And, during her 24 years with the JNMS parent company, she also distinguished herself in customer service. But her charity work is one of her fondest memories.
"I used to give of my time to a number of community and charitable organizations and would organize Christmas treats for the various Children's homes as well," she said.
However, that is not her only charity.  Since 2008, she has led an annual medical mission to Jamaica which offers free health checks to residents in St. James as well as her home community in Ketto, Westmoreland, and  she also does charity work with the Cystic Fibrosis Foundation, a non-government organization that works to find a cure, or control cystic fibrosis.
"I have always wanted to carry on the legacy of my deceased parents which was to help others who were less fortunate and when the opportunity presented itself, I went for it. It has been successful so far and from that we have adopted the City Mission Ketto Basic School," said the avid zumba dancer.
"My second charity, The Cystic Fibrosis Foundation is near and dear to my heart. My late daughter, Lisa Simone died of this chronic lung and digestive system disease. I have been an active member since 1997 and each year my team and I participate in the Great Strides Walk, an event that has been ongoing for the past 30 years, in which we raise over US$5,000 yearly. This year's walk is scheduled for April 29 and I will be there," she added.
As she calls time on a satisfying career, Horace Hines, general manager of JNMS explains that he has always admired her effervescent personality as well as her charity work.
"I have known her for many years and have always appreciated her spirit and the fact that she is so pleasant and compassionate. She is always seeking to make the lives of other better and I wish her all the best as she embarks on her new journey," he said.
And, the grandmother of two has laid out plans for her retirement.
"I am looking forward to spending more time with my grandchildren, and working on my charities. I am passionate about helping others and I will now be able to devote more time to that goal," she said.