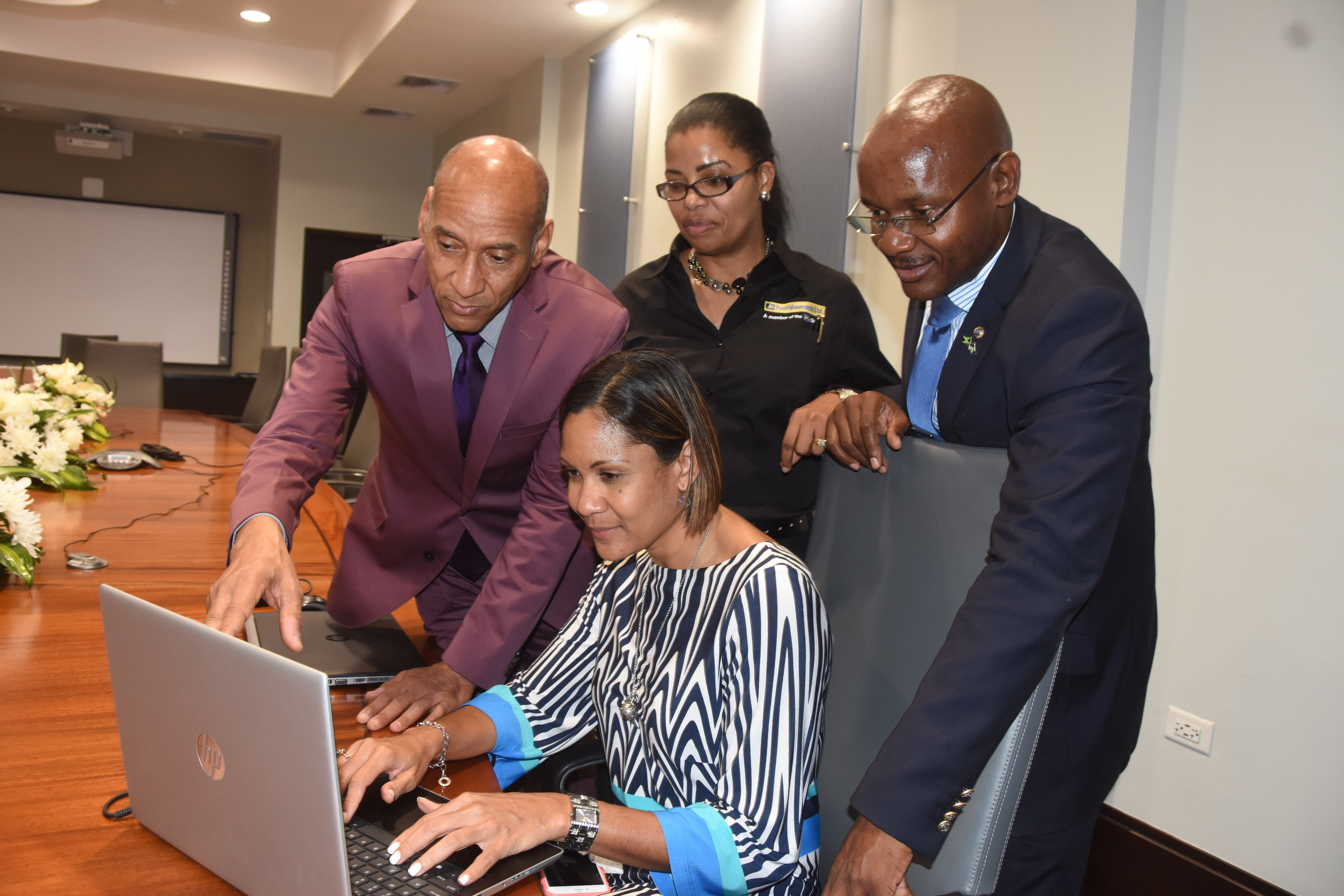 Allan Lewis (from left) managing director and Sharon Whitelocke, deputy general manager, JN Fund Managers, give a demonstration to Leesa Kow (seated), deputy managing director, JN Bank and Michael Powell, senior manager, security department, JN Group. They were viewing the new online  platform launched by JN Fund Managers.
Jamaica is in the early stages of an online investment revolution, says Allan Lewis, managing director of JN Fund Managers.
"Investors frequently go online to research their options, and a growing number are using the medium to carry out transactions," he said. "Therefore, companies in the industry, such as JN Fund Managers, are reshaping their operations to accommodate this trend."
"Customers are demanding more options to access their brokers," he said. "Making a call to a broker is being supplemented by the availability of up-to-date market information on our company's website, and we are expanding the capacity for individual persons to access their accounts."
Mr Lewis said that the investment management company has rolled out a new online platform to serve those needs. He pointed out that although the government's National Financial Inclusion Strategy, released in 2017, revealed a low usage of electronic banking tools, members of the investment community are among the most tech-savvy in the population.
"Our customers can now reach us at anytime from anywhere in the world," he said. "And, information will be available at their fingertips."
He was speaking at a function to update the managers from across The Jamaica National Group, about the new JN Fund Managers online platform; and its new products and services, at the company's headquarters in New Kingston, on March 22
Sharon Whitelocke, deputy general manager, JN Fund Managers, says the new online platform is enhancing the capacity of the company's existing website at www.jnfunds.com.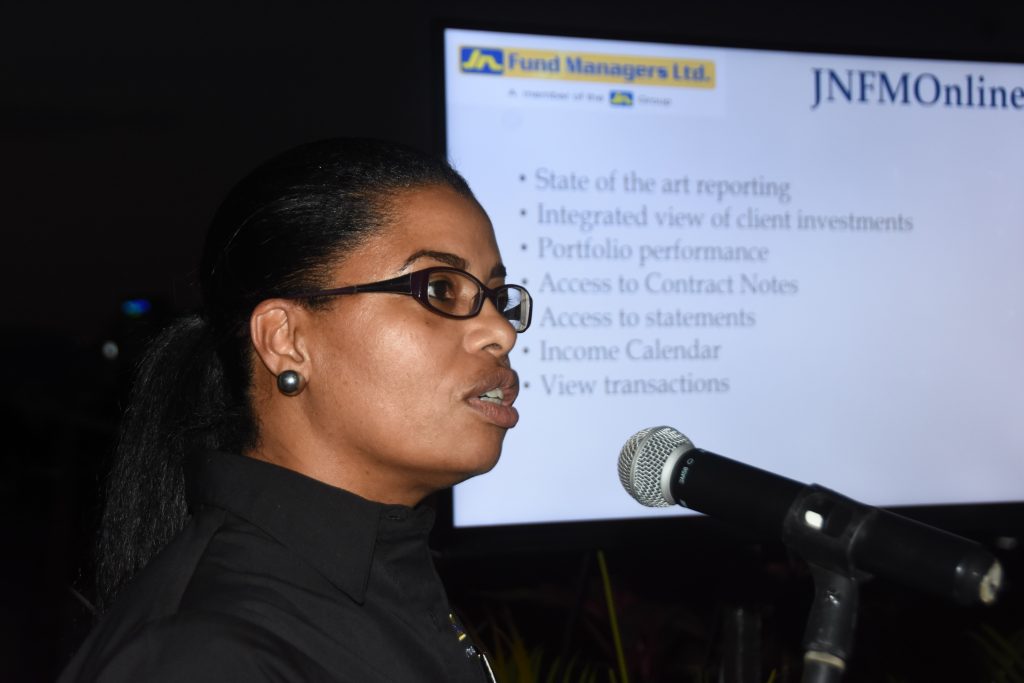 "Clients now have a comprehensive view of their investment portfolio and the individual securities that make it up such as bonds, equities, treasury bills, repurchase agreements and mutual funds," she said. "This is an enhancement from the status prior to February, when clients could only access data on their repurchase agreements."
"This new platform provides users with the opportunity to see the overall returns of their portfolio as well as the performance of each security," the deputy general manager said. "They can also access their contract notes, statements, income calendar and are able to view their transactions online."
A second stage of the platform is being developed, which will allow clients to conduct online trading in equities, she stated.
"Clients will be able to have a self directed experience in buying and selling shares," Mrs. Whitelocke further explained. "The platform will also allow them to speak to their advisors by online chat, video or screen share."
She pointed out that these upgrades reflect the wider online thrust to reach out to clients, taking place across its fellow member companies in The Jamaica National Group.
Leesa Kow, deputy managing director, JN Bank, says the institution is increasing access to its JN Live online platform, allowing members anywhere in the world to do their online banking.
Online payment options have been increased and members can look forward to moving funds from their bank accounts into different payment systems, such as PayPal.
"Financial transactions will increasingly take place online simply because of its efficiency and convenience," Ms Kow stated. "This allows institutions, such as JN Fund Managers and JN Bank, to reach our members here in Jamaica and in the Diaspora; and, at the same time, serve them better than ever."